The caravan marches north
April 16, 2018
Many hundreds of migrants who marched northward through Mexico to demand asylum now face threats from Donald Trump. Juan Miranda explains what happened.
AN ESTIMATED 1,500 migrants from Honduras, Guatemala and El Salvador embarked on a month-long journey across Mexico to demand dignity, the right to asylum and an end to political corruption in their home countries.
The group Pueblo Sin Fronteras has been coordinating these journeys for the better part of a decade now, but similar caravans have been taking place for longer, some going as far as the 1980s.
This particular caravan, however, caught the attention of Donald Trump, who predictably took to Twitter to warn of the supposed hordes of migrants "threatening" the U.S. border and demand that the Mexican government stop the group from proceeding north.
Only an hour after wishing Americans a Happy Easter, Trump wrote, "Border Patrol Agents are not allowed to properly do their job at the Border because of ridiculous liberal (Democrat) laws like Catch & Release. Getting more dangerous. 'Caravans' coming. Republicans must go to Nuclear Option to pass tough laws NOW. NO MORE DACA DEAL!"A few days later, he announced the deployment of the National Guard to the border.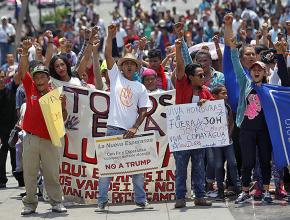 Trump may have first been alerted to the caravan's existence by a segment on his favorite news show Fox & Friends, which aired a segment on April 1 about a "[c]aravan of illegal immigrants headed to the U.S." This was just the start of what turned into a long week of xenophobic fearmongering spearheaded by Fox and other right-wing news outlets.
"They end up in schools on Long Island, some of which are MS-13!" blustered host Brian Kilmead, referring to unaccompanied minors fleeing gang violence in their home countries. In another interview with a former Immigration and Customs Enforcement agent, the caravan was framed as an "organized plan and deliberate attack on the sovereignty of the United States by a special interest group."
This type of sensationalized commentary is nothing new and has continued to serve a common purpose for Trump and other anti-immigration pundits--to appeal to an alienated and angry base of voters and to whip them into a frenzy around baseless claims.
For example, the narrative propagated by these media outlets ignored the fact that the vast majority of people in the caravan planned to resettle in Mexico, not the United States. And that those coming to the U.S.--fewer than 100, according to an organizer--were expected to turn themselves in and go through the legal process of requesting asylum.
As Danny Katch wrote recently for SW:
The goal of these Fox personalities, like the fascists throughout history that they increasingly resemble, is to turn cowardice into a virtue: to make it seem not pathetic but wise for rich white men to fear poor migrant children, and for the most powerful country in the world to deploy its troops against refugees seeking to make a legal case for asylum.
---
TRUMP PREDICTABLY tried to generate fear about the caravan and then to use that fear to discredit Democrats--such as the tweet cited above that lashed out at "ridiculous liberal (Democrat) laws like Catch & Release" and calling on "Republicans [to use the] Nuclear Option to pass tough laws NOW."
But it also needs to be said that anti-immigrant appeals and policies have historically been a bipartisan project. As Socialist Worker has reported:
It was the Obama administration that bullied Mexico into changing its own border policy in 2014, part of the Democrats' heartless response to an unprecedented number of unaccompanied children seeking asylum from the gang violence ravaging Honduras following a coup backed by then-Secretary of State Hillary Clinton.
Consequently, Mexico has increasingly become a destination for migrants from Central America. Last year, about 14,600 applied for asylum, 66 percent more than in 2016 and 11 times as many as five years ago.
According to its Facebook page, the caravan is being surveilled by Trump's law enforcement and has received violent and graphic threats from dozens of U.S.-based racist groups.
But the reality is that many migrants face daily threats in their home countries--threats that they know they must flee. In response, Pueblo Sin Fronteras issued the following statement:
We will not be cowed by Trump's efforts to isolate or intimidate us. Just as we will not be cowed by the violence and harassment used against political organizers by U.S.-armed and U.S.-funded governments in Honduras and Mexico.
So while the future of the caravan and the millions of people seeking refuge seems uncertain, one thing is clear. People will continue marching, resisting and struggling to be free.
---
THROUGH THIS mass collective effort, migrants are demanding open borders and the right to asylum; an end to deportations, which destroy families; and the continuation of programs such as Temporary Protected Status (TPS), which has saved the lives of thousands of people fleeing violence in Central American countries.
Rodrigo Abeja, an organizer based in Mexico, said the number of people on this caravan--more than three times the number who participated in last year's action--illustrates the desperate circumstances facing so many throughout the region.
The logistical problems associated with trying to shepherd such a large group on such a long journey slowed the caravan considerably, leading Trump to boast that the caravan had been stopped by the Mexican government, because of his threats.
But on April 14, after several days of protests and actions in Mexico City, about 600 resumed the journey north. Many more decided to stay and request asylum in Mexico.
The 2,000-mile trek to the U.S. began back on March 25 in Tapachula, Chiapas, Mexico, near the Guatemala-Mexico border.
Whether on foot, bus, or on top of trains, the refugee caravan--"Migrantes en la lucha" or "Migrants in Struggle"--brought people together to improve their chances of arriving safely at their destination. There are estimates that 10,000 migrants are killed or disappeared each year as they travel across Mexico.
According to organizers, about 80 percent of the migrants in the latest caravan come from Honduras, a country in which two-thirds of the population lives in poverty and generally has the highest or second-highest murder rate in the world, depending on the year.
This influx is most likely the result of the recent political instability in that country as a result of U.S. foreign policy, including the U.S.-backed coup in 2009 and the propping up of the repressive regime of Juan Orlando Hernandez.
As journalist Dana Frank describes in a New York Times opinion article: "[T]he coup was what threw open the doors to a huge increase in drug trafficking and violence, and it unleashed a continuing wave of state-sponsored repression."
Since the coup, hundreds of union and student activists have been murdered, including the environmental and indigenous rights leader Berta Cáceres.
---
THE CARAVAN'S first stop was the town of Huixtla in Chiapas, where many of the migrants camped outdoors. "Even in the night, it's not hot, but the cold assaults you," Carlos, a former soldier from El Salvador, told Reuters.
They then proceeded to the town of Mapastepec, where a local school offered food and shelter. Over the years, the caravan's success has depended on such acts of solidarity and generosity encountered along the way. On April 6, about 800 of the migrants arrived in Puebla, where they planned to attend legal workshops in preparation to request asylum in Mexico and the U.S.
The journey is especially hard for children and mothers who have to arrange for water, food and shelter for the most vulnerable members of the caravan.
"I do everything for my daughter, I know I will arrive," said Blanca, in an interview with El Sol de Hidalgo. "I am not afraid because I travel with many people. If something happens they will not let something happen to me." She is traveling with her 2-year-old daughter, her brother and her mother to escape the gang violence that is consuming her native El Salvador.
The long and dangerous odyssey is being supported by Pueblo Sin Fronteras, a group that has been organizing these annual caravans since 2010 with the goal of ensuring safe passage for migrants.
The group coordinates humanitarian aid for the caravan while looking for every opportunity to shine a spotlight on the plight of immigrants, in particular, by highlighting the role that the U.S. has played in creating the various crises forcing people to flee their home countries. According to their site, their "dream is to build solidarity bridges among peoples and tear down border walls imposed by greed."
The caravan is made up of children, infants, mothers and fathers, elders, and even an LGBTQ contingent. Nikolle Contreras is one of roughly 25 transgender and gender-nonconforming people who have joined the caravan. This is her third attempt to leave Honduras, one of the most dangerous places for transgender people.
According to organizers, most people are willing to bear the many hardships and risks of such an arduous journey in order to escape political persecution, gang violence and other dire threats. "The journey is extreme," said organizer Rodrigo Abeja. "People say that if they stay where they are, they'll die. So they're here because they're trying to stay alive."