Let's rally to save Temporary Protected Status
February 7, 2019
Ryan Roche reports on mobilizing efforts in Boston for a major protest against the Trump administration's attacks on a crucial program for many immigrants.
SINCE HIS election, Donald Trump has launched an all-out assault on every category of immigrant in the U.S. — refugees seeking asylum, children of all statuses, longtime undocumented workers, labor and social justice activists, literal military assaults on migrants at the border and even green-card holders. But one of the most persistent attacks has been on recipients of Temporary Protected Status (TPS).
Created as part of the Immigration Act of 1990, TPS established a procedure for the U.S. Attorney General to allow immigrants to stay in the U.S. temporarily if it was deemed unsafe for them to return to their home country due to a natural disaster or armed conflict.
Currently, immigrants from 10 countries are protected by TPS status: Haiti, El Salvador, Syria, Nepal, Honduras, Yemen, Somalia, Sudan, Nicaragua and South Sudan. But the executive branch can decide to revoke these temporary protections at its own discretion, and the Trump administration has seen TPS recipients as low-hanging fruit for its white nationalist assault on immigrants.
Protection for the two largest groups of TPS recipients — 260,000 Salvadorans and 45,000 Haitians — is set to expire in 2019. Country by country, the Trump administration is revoking TPS status, with the aim of completely eliminating the program.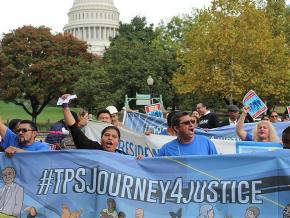 But immigrants with TPS status are fighting back. A recent rally in Philadelphia brought out 5,000 TPS recipients and allies — many in labor unions — to fight for their continued protection from deportation. And thousands more will converge on Washington, D.C., on February 12 for the March for TPS Justice. Buses are being organized in cities across the country for this march.
---
AT A January 28 meeting at Harvard University hosted by the Harvard Student Labor Action Movement (Harvard SLAM), immigrant and labor solidarity activists came together to plan to mobilize for the national march.
"This is a very important action," said Julio Perez, a member of the Harvard TPS Coalition and Massachusetts TPS Committee. "We've been working on this project for a year and a half with the National TPS Alliance. We have more than 40 committees working together across the country, and we just joined forces with United We Dream to work together for immigration justice."
Boston organizers are planning to fill up to 10 buses with TPS holders, allies, activists and union members — and meet up with buses from across the country. SEIU Local 32BJ, which has about 100 members working at Harvard, has paid for a bus so its members can attend the march.
"We'll start at the White House, march to the Supreme Court, and then march to Congress, where we'll split up to give informational packets to legislators," said Perez. "We want to make this a memorable day for members of Congress."
Hiwaida Elarabi spoke to the meeting about her experience moving to the U.S. from Sudan and receiving TPS in 1997, and made the case for why we all should fight for the program:
I joined the Massachusetts TPS Coalition in September 2018. There are approximately 400,000 TPS holders, with about 275,000 children who are U.S. citizens. The average TPS holder has been in this country between 10 and 20 years, they are in all aspects of life. You can find them as laborers, taxi drivers, construction workers, faculty members, doctors and physicians...

We are your friends at work, the friends of your kids at school. We are hard workers, and we have been contributing to this country for so long. We're just looking for people to understand our plight and stand behind us.
Elarabi is a plaintiff in a case against Trump's plans to deport TPS holders. That case made its way to U.S. District Judge Nick Edward Chen in San Francisco, who ruled in October that there was evidence that "President Trump harbors an animus against non-white, non-European aliens which influenced his...decision to end the TPS designation."
Elarabi explained why it was an easy decision to sign on to that lawsuit.
I didn't need a lot of convincing because I wanted to do something. I didn't want to just sit around and wait for a fate that's out of my control. I wanted to find something that can lead us to a better outcome.

People might have heard about this lawsuit and may think this is a solution, but this only buys us some time. We need a legislative solution to give us a more stable status. Permanent residency would be a dream. That's what I want to fight for. But we need something better than hanging by a thread and being threatened with deportation at any time.
Gabby, a high school student in East Boston, explained to the room why it's important for her to stand up for TPS that even though she isn't a recipient.
"My best friend is a DREAMer, and I have multiple friends whose parents have TPS," she said. "Many of my neighbors have TPS status. This affects our community. So many kids in my school are left to worry about whether they'll have to raise their younger siblings if their parents lose TPS and get deported. I feel so proud to stand up and defend my neighbors in this way and fight for them to be able to stay in their homes here in the U.S."
---
DORIS LANDAVERDE, a member of SEIU Local 32BJ at Harvard and leader of the Harvard TPS Coalition, urged students and union members to join the demonstration and organize their friends and co-workers.
"This is a workers issue," she said. "I've been proud as a worker to stand in solidarity with the Harvard Graduate Students Union during their struggles, and I'm excited to see graduate students standing in solidarity with those of us on campus who are TPS holders."
Landaverde moved to the U.S. from El Salvador after a devastating earthquakes in 2001, and she has been a TPS holder for 18 years. She got involved in the Harvard TPS Coalition to fight against the possibility of being separated from her children, but in the process, she also discovered how important it is to fight for everyone.
"I found out that I can help be a voice for thousands of TPS holders in my community and here at work," she said. "This is a workers' issue. TPS holders are workers. Here at Harvard, we cook and we clean and we work hard to keep this university running. Harvard is a rich institution but it runs on our work. 150 workers at Harvard could be deported if TPS is taken away."
Landaverde also spoke about how the politics of solidarity have been central to this work:
All immigrants and workers are fighting the same fight. We can't let this administration divide us, or pit us against each other. I've met members of so many different communities who want to fight together, with us, and I'm so happy to be able to fight with them. To win dignity and permanent status for all immigrants, regardless of their particular status.

That's what we need to be fighting for, together. And I believe we can win. I'd like to ask the community to please join us for this march, and help us organize others to ride to D.C. with us and stand with us during this fight.
Buses will be leaving various cities across the country to converge on Washington, D.C., on February 12 for this march. To find out if a local TPS committee in your area is organizing to attend or to find out how to help, please visit NationalTPSAlliance.org or the TPS Alliance / Alianza TPS page on Facebook.