How teachers resisted a disappointing deal
March 5, 2018
West Virginia's explosive statewide teachers' strike is continuing into another week, with educators and their supporters determined to achieve real progress on all their demands. In this report written over the weekend, Michael Mochaidean, a West Virginia high school teacher, tells the story of how what seemed like an agreement to end the walkout turned out to be tinder for a new eruption of anger.
ON TUESDAY, February 27, West Virginia Gov. Jim Justice announced at a press conference that he had struck a deal with education union leaders, under which teachers' annual salaries would increase while the state created a task force to examine the Public Employees Insurance Agency (PEIA).
Standing on both sides of the governor were the leaders of the two education unions in the state: Christine Campbell of the American Federation of Teachers-West Virginia and Dale Lee of the West Virginia Education Association.
These union leaders assumed, as did the corporate media assembled there, that this announcement would ensure an end to the four-day work stoppage. Justice even called for all schools in the state to remain closed on Wednesday, February 28, as a "cooling-off period."
Teachers, on the other hand, were furious at this supposed "compromise" and began rallying in opposition to it almost instantaneously.
Thousands of public employees gathered outside the Capitol building to chant, "We won't back down," as they voiced a unified, vocal opposition to a compromise they believed would endanger their movement and rely on a tenuous agreement with one branch of government.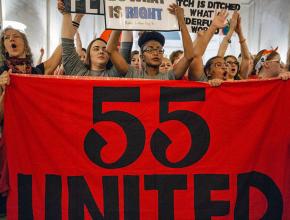 Because West Virginia law doesn't guarantee collective bargaining rights, the deal that Dale Lee and Christine Campbell signed on to has no legal bearing on members around the state.
This is an important consideration to remember in the age of "right to work" states, which prohibit unions from bargaining on behalf of their members. While this reactionary drive by mostly Republican-dominated legislatures has succeeded in stifling union power at the state level, in West Virginia, it actually backfired--because the union leaders' deal with Justice didn't have any legal standing that teachers had to respect in any way.
---
TWO WEEKS earlier, the two state teachers' unions held county-by-county votes about how to proceed in the coming weeks.
Because West Virginia has no collective bargaining, the associations needed to ask county bodies to provide them with the number of teachers in favor of or opposed to, statewide action, in whatever form that took.
The counties overwhelmingly approved--by upward of 90 percent--a resolution that simply stated, "I hereby give authority to the state associations to call a statewide action." This vote didn't bind the union leaders, who simply used it as a bargaining chip early on in negotiations and then as a tool during the first few days of the walkout.
When the union leaders announced their agreement with Justice, it could all the more easily be rejected by rank-and-file members since their loyalty was not to the unions, but to one another. The teachers realized they didn't have to agree to whatever terms Lee and Campbell made, and thus chose to meet to determine if they should accept the proposal.
During the "cooling-off" day on Wednesday, counties began to rally about the deal, as it seemed not only to be falling apart, but unable to fix the systemic issues that educators had went on strike over.
By late afternoon, three counties--Wayne, Cabell and Mingo--announced they would close on Thursday, while other counties, such as Monongalia, tried to head off a closure by e-mailing and calling parents and staff to "announce that schools would resume on a normal schedule tomorrow."
By 6 p.m., six counties had announced closures for Thursday, with two more on a two-hour delay--the purpose of which would be to see which staff came to work ahead of opening. By 7:30 p.m., 16 counties had closed and four were on two-hour delays.
It was becoming clear with each successive hour that schools would remain closed on Thursday as a result of community anger toward what was being called a "sell-out" moment for union leadership.
Teachers met by county for impromptu meetings and voted to continue the strike, regardless of what had been agreed upon by Lee or Campbell. Superintendents who had initially stated that schools would be open had to retract their previous statements, sounding almost befuddled by the new developments.
For example, Superintendent of Monongalia County Schools Frank Devono had to record another call for parents, put through at 9:30 p.m., and explain in an exasperated tone that schools in the county would remain closed on Thursday, and that he was "unsure when they would reopen."
By 10:30 p.m., schools in all counties had closed again indefinitely. Whatever deal the union leadership thought they had agreed to was simply not enough for the rank and file.
---
THURSDAY APPEARED to confirm the fears that the teachers had about returning to work under the "agreement" with Justice.
By early afternoon, the state Senate had voted to table HB 4145--the House bill designed to provide the 5 percent pay raise for teachers and 3 percent for other state workers that Justice promised--by a count of 20 to 14. Only two Republicans crossed party lines to support taking up the measure.
Soon thereafter, news spread that the Senate Finance Committee, whose responsibility extends to examining budgetary proposals related to state employee pay raises and future revenue for PEIA, wouldn't meet, and instead chose to adjourn until the following day.
It was clear by then that educators had made a wise decision to stay out until there was a deal in black and white.
But the following day, tensions ratcheted up to a level unseen until that point.
When the Senate Finance Committee released its agenda for Friday, March 2, the pay raise discussion didn't even appear. Moreover, the state Senate again decided to table HB 4145, once again on nearly total party lines.
Among teachers and their supporters, agitation reached a boiling point as online talks of occupying the Capitol building began to circulate.
One of the moderators of the secret West Virginia Public Employees United page, Jay O'Neal, broached the topic in this way: "It's going to take added pressure to make sure our demands are met. There has been some talk at the Capitol about NOT LEAVING the building until they meet our demands. Would you support this?"
Responses online were mixed, but at the Capitol, verbal commitments from teachers were resoundingly in favor of indefinite occupation.
It soon became clear to those assembled that the occupation would require a long-term plan of action. Teachers eventually resolved that if they did, in fact, choose to remain indefinitely at the Capitol, this would have to be planned out for the following week, allowing them time to prepare to stay long-term.
Instead of an occupation, however, teachers decided to flood the Capitol yet again over the weekend.
With the weekend legislative session failing to meet the demands of educators across the state--a long-term revenue stream to support PEIA, a 5 percent pay raise for teachers and permanent tabling of bills designed to privatize education--schools will be closed going into the new week.
The stakes are high in this struggle. As Donnie Ellis, a retired coal miner from Mingo County and husband of a striker, told the New York Times, "You go over the line, you've got to finish it." To back down now would compromise the movement and jeopardize labor's bargaining capacity for years to come.