Armed with tamales in the battle for Denver schools
March 5, 2019
Carlos Valdez runs through the ingredients of a popular solidarity campaign in Denver during the teachers' strike in February.
WHEN DENVER teachers struck for three days last month, they were warmed up on freezing mornings by a comfort food whose roots date back thousands of years, a symbol of the persistence and resistance of Indigenous peoples and cultures on this continent.
The Tamales for Teachers solidarity campaign — organized by the International Socialist Organization (ISO), along with the Democratic Socialists of America (DSA) and Front Range Workers Initiative for Liberation and Defense (Front Range WILD) — was inspired by similar solidarity efforts that have accompanied teacher strikes over the past year.
Lita Blanc, former president of United Educators of San Francisco, raised $20,000 last March to send pizzas to West Virginia educators on strike, a campaign that provided the blueprint for strike solidarity campaigns to come.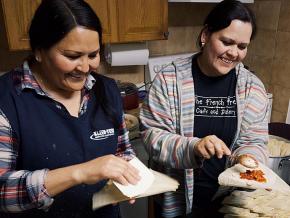 The Tacos for Teachers campaign during the Los Angeles strike this past January expanded on that effort and showed the power of a solidarity campaign that reflected the culture of many LA educators, students and parents. As Diana Macasa and Alex Schmaus wrote in Socialist Worker:
Tacos for Teachers is both a union solidarity campaign and an embrace of Mexican and Chicanx cultures and of a Latinx immigrant community facing accelerated assaults — not the least of which being an ongoing federal government shutdown to force funding for a racist border wall.
Tamales for Teachers brought this spirit to Denver, and drew its power from the three powerful women who made the tamales.
Jeanette Vizguerra is a leader in the immigrant rights movement, an experienced union organizer, an undocumented immigrant and a mother of four. After fighting off deportation for eight years and seeking sanctuary in a Denver church for three months, she was named one of Time magazine's 100 Most Influential People in 2017.
The ISO worked with Jeanette to blockade an ICE field office last summer to draw attention to the cruelty of child detentions and family separations.
Ginny Calderon had her family torn apart a year ago when ICE deported her husband and father of their two young children. The experience thrust her into activism. She is currently fighting to restrict ICE agents from profiling immigrants in our schools, hospitals and courts.
Ginny has incurred over $12,000 in legal fees in her attempts first to fight her husband's deportation and now to reunite her family. She has set up this GoFundMe page to raise money for those costs.
Alicia Valdez is a former undocumented immigrant, mother to three children and co-founder of El Molino Bakery in the Denver metro area. Enduring poverty since childhood, she and her husband first immigrated to Los Angeles and later settled in Aurora, Colorado.
---
DESPITE — OR perhaps because of — their long histories of struggle, these three women threw themselves into the solidarity campaign. "I always fight for social justice," said Jeanette, "and teachers deserve more benefits."
Ginny saw the campaign as a way to give back to educators. "I think the best gift we can give to our children is education," she said. "Teachers are the passport to learning."
Alicia saw her involvement in the Denver teachers strike as a way to help her oldest son, a teacher in a neighboring school district. "I know that teachers everywhere need to be paid more and that schools must be fully funded," she said. "I hope that teachers everywhere win."
Leading up to the strike, the Denver school district made its own statement about the connections between immigrant justice and teachers' unions.
On January 24, Denver Public Schools (DPS) sent an e-mail to schools warning that striking teachers on H or J visas would be reported to immigration and the U.S. Department of State. The letter also stated, "If they have a pending case and choose to strike, this could impact the decision on the case."
"As far as we understand right now, the school is not required to reach out to immigration or the [U.S. Department of State]," said Ana Rodriguez of the Colorado People's Alliance to the Denver Post. "It's so frustrating that DPS claims to be this welcoming place for immigrant students, but they're turning around and intimidating immigrant teachers," Rodriguez said.
DPS rescinded the email, calling it "the result of a misinterpretation of the information that we received from our immigration firm, and the communication was in no way intended to cause fear for our educators on visas. Our deepest apologies for any anxiety that was caused by this error."
However many educators didn't buy the apology. Marisol Calderon, a teacher at Farrell B. Howell, told the Denver Post that the letter was a "scare tactic" to discourage educators from striking. The letter was widely shared and condemned on social media as well.
Unfortunately, the Denver Classroom Teachers Association (DCTA) didn't issue a statement in regards to the letter, reinforcing the concerns of some DCTA members that the union wasn't doing enough to highlight issues of racial justice in the contract fight. The majority of educators on the picket lines also didn't focus on the efforts from DPS to unnecessarily report immigrant educators.
---
FOR THESE reasons, the Tamales for Teachers campaign was all the more important for bringing the politics of cross-border solidarity and immigrant justice onto the picket line.
As ISO member Jason Metter put it, "I was able to talk about the tamal providers and their struggle and how their fears are also shared by the teachers who were threatened by the district." Much of the campaign focused on highlighting immigrant educators facing the threat of deportation for exercising their rights as workers.
Tamales proved to be the perfect food to fuel the picket lines in Denver's sub-freezing early mornings. They were "edible hand-warmers," as one comrade remarked, that stayed warm and perfectly textured for hours in ice chests.
This seemed obvious to one friend, who noted that thousands of years ago, Indigenous women of Central America invented the tamal as a portable food to be eaten in battle. Teachers doing battle with DPS, the school board and Superintendent Susana Cordova found this history to be very fitting.
The tamal providers were an active part of the fight against the tactics of DPS and their use of immigration status to intimidate their workers. They showed their solidarity and resistance the same way their ancestors resisted colonization and borders: they tapped into their Indigenous roots.
A Go Fund Me page was set up to raise funds for the campaign, with the initial goal of $1,000. However, the overwhelming support from the Denver community and others around the country would surpass that goal. By the end of the strike, Tamales for Teachers raised over $8,500 from almost 300 donations.
Overall, the campaign served 3,000 tamales (with a choice of pork red chile, chicken green chile or roasted peppers with cheese) to six different schools: East High School, South High School, Lincoln High School, Manual High School, North High School and Montbello High School.
Teacher response to the campaign was nothing but positive. East High School teacher Cat Di Nunzio and Montebello High School teacher Andrea Legget both expressed how delicious the tamales were. Manual High School teacher Manasseh Oso expressed the importance of the solidarity behind the campaign:
As a striking teacher, these natural hand warmers genuinely fueled my resistance, morning and afternoon, all three days! Everyone loved them, and, hopefully, got a glimpse of what revolutionary solidarity is all about. Try as we might, us teachers cannot win these battles alone. The Tamales for Teachers campaign was a nourishing reminder that we have our backs covered, and that together we can and will persist and win.