Teacher actions return to Kentucky
March 9, 2019
Ashley Theissen reports on last week's sick-outs and a rally in the state capital to protest the continued attempts to slash teacher pensions.
EIGHT COUNTIES in Kentucky, including the two largest school districts, were shut down on February 28 as hundreds of teachers called in sick and traveled to the state capital of Frankfort to protest the latest efforts by the Republican-controlled state government to undermine teacher pensions.
Plus, this past Wednesday and Thursday, hundreds of teachers in Jefferson County — home of Louisville — continued to protest in the capitol, forced Jefferson County Public Schools (JCPS) to close.
The one-day "sick-out" on February 28 came together with only hours of planning the night before in reaction to House Bill 525, an attempt to restructure the board that oversees teacher pensions in Kentucky. HB 525 would significantly reduce the number of seats controlled by the Kentucky Education Association (KEA).
Kentucky legislators and right-wing Gov. Matt Bevin are also aiming to pass HB 205, which would give tax credits for private school scholarships, and Senate Bill 250, which would shift power in Louisville-area schools to the Jefferson County superintendent.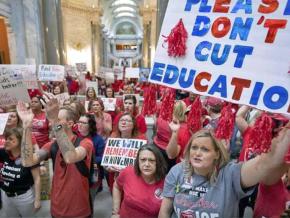 As the lawmakers discussed HB 525, hundreds of teachers dressed in #RedForEd and wearing red KEA stickers lined up outside the Capitol building, filling the committee hearing room and several overflow viewing rooms to capacity. Remaining teachers and their supporters waited for news in the halls of the Capitol.
Ellen Niehoff, a high school social studies teacher and KEA member from Louisville, said that the bill was another attempt to "sneak in" changes to the pension system — referring to Republican attempts to attach massive pension changes into a waste management bill last fall.
Niehoff called in sick after receiving a message from the KEA at 5:10 p.m. the day before. She was surprised that more than eight counties did not come out, but also noted that, to her knowledge, "this is the first time teachers have closed schools to come to protest a bill that is only in committee." She was confident that teachers would continue to fight the bill past this initial stage.
When asked about whether the ongoing teacher strike wave informed the current sick-out, Niehoff replied: "Every state is going to have some different issues, but teachers across the country are united." As we discussed the recent successful strike in LA, she noted that the issue of mental health professionals in every school is an issue in her district in Jefferson County as well.
---
JOANNA MCLEMORE, a first-year physical education and health teacher at a Louisville high school, said that she "has never been a political person," but felt that coming to the capital was important. She, like other teachers, worries about the future of education in Kentucky.
"How are we going to recruit qualified teachers to our schools?" she asked. "Teachers teach for the kids. Money's not the motivating factor. But you need to make a living wage."
"Why are our legislators' pensions secure?" she continued. "If they want to trade funds with us, we can leave right now."
De'Marcus Hopson, a high school social science teacher and KEA member from Lexington, talked about the dynamics of fighting for pensions and public education in a state dominated by Republicans.
"From the governor's perspective, it's a very conservative state, and there's a true desire to nix public education [through charters and privatization]," he said. "You're looking at a fight beyond the pension — [Bevin] is using the pension to attack public education itself."
"When we look at history," he continued, "especially from the African American perspective, protest is the means that works to get to the goal. Being here today isn't the goal, we'd rather be teaching. But we have to fight this."
Social justice issues like racial segregation and over-policing in schools have been a major part of the campaigns of some educator unions like United Teachers Los Angeles (UTLA), but they haven't made it into the wider conversation and demands among teachers in Kentucky.
Hopson said that was due to the overall conservatism of the state, but that the fight over pensions and economic demands "is where these battles start."
But he also noted that the social justice issues taken on in LA aren't foreign to Kentucky. The immigrant legal defense fund that was won in the recent UTLA strike, for example, is needed in Shelbyville, where some immigrant families have stopped sending their children to school out of fears of being targeted.
---
DESPITE THE mobilization of teachers and canceled classes in eight counties, HB 525 passed out of committee. But this is one battle in a war that started last year and is poised to continue.
While the introduction of HB525 mobilized the teachers on Thursday, the quick decision to protest this bill is based on the experiences that teachers have had fighting intensely for their pensions over the last year.
The February 28 protest and sick-out around the bill was led in part by grassroots groups like KY120United and 120Strong, which were created during the 2018 fight against pension bills, highlighted by a statewide walkout on April 2. That action came in the wake of the successful West Virginia teachers strike and constituted an early part of what has become the teachers strike wave.
While the battle in Kentucky in 2018 was not as prolonged or militant as in some of the other states, last week's sick-out shows that Kentucky teachers understand the ongoing attacks need to be met with militancy. Two days after, KY120United released a statement affirming that they are strike-ready:
We, the Public Employees of the Commonwealth of Kentucky, are prepared to strike for the betterment of our state, the survival of our communities, and the economic security of our families if the Kentucky General Assembly does any of the following:

Attempts to provide scholarship tax credits for private schools, thus reducing public monies available to public schools

Attempts to create a funding mechanism for Charter Schools, thus reducing public monies available to community public schools

Attempts to reduce Defined Benefit Pension benefits to public employees

Attempts to remove new/future school employees from the inviolable contract

Attempts to reduce salaries of public employees

These are our lines in the sand. Enough is enough.
This set of ultimatums is on a collision course with legislation slated to be taken up by the General Assembly this session. That means that the February 28 sick-out could be the beginning of a bigger fight that sees a return of the teacher strike wave to Kentucky.