CPE1's principal has to go
March 30, 2017
Parents and fellow teachers have come to the defense of a victimized educator in the latest battle to shake a New York City elementary school, writes Peter Lamphere.
DISCIPLINARY HEARINGS for New York City teachers are held in nondescript downtown offices and rarely generate any interest. But during four successive days in March, the City Office of Collective Bargaining was filled with at first 70 and then almost 100 parents and fellow teachers showing their support and solidarity with Marilyn Martinez, a kindergarten/first-grade teacher and union chapter leader (shop steward) at Central Park East 1 (CPE1).
The outpouring of support--unprecedented, according to veteran union activists--was both a defense of a beloved teacher facing trumped-up charges and also the latest stage in the struggle to save an educational community from an abusive administrator.
CPE1, a historic progressive elementary school in East Harlem founded by pioneer Deborah Meier, has been rocked by controversy for 18 months since the appointment of Principal Monika Garg.
In her brief time as principal, Garg has initiated formal city investigations of every teacher at the school, culminating in the temporary reassignment of the school's union delegate last year and the recent charges against Martinez.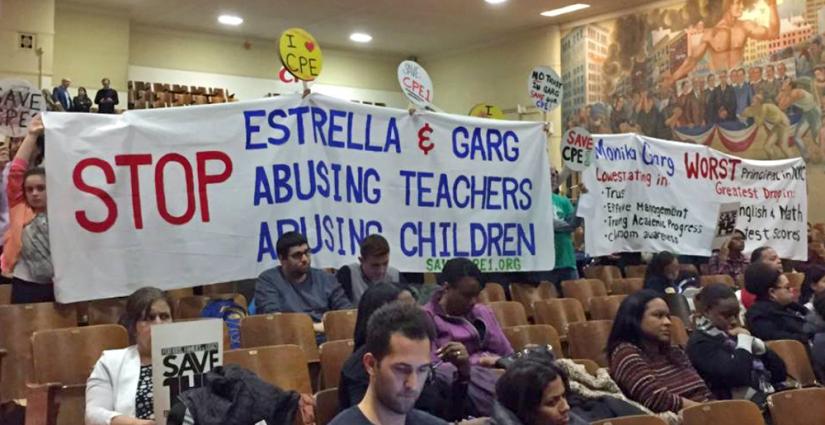 This fight is significant, both because parents have demonstrated a model for organizing against an abusive principal and in defense of teachers active in their union, and because CPE1 is a rare example of a successful integrated school in New York City, one of the most segregated school districts in the country.
Abusive principals are rampant across the city, and the United Federation of Teachers (UFT) has so far been unable to do much to address the issue, despite its cozy relationship with the administration of Mayor Bill de Blasio and School Chancellor Carmen Fariña.
"Standing up for me would mean standing up for other chapter leaders, teachers, children and their families," said Martinez. "If teachers are mistreated, then people's children are not safe. We need to stand up against abusive administration, and it needs to start at the top."
However, the city's top-level Panel for Education Policy (PEP), largely appointed by de Blasio, has ignored successive mobilizations by CPE1 teachers and parents. Fariña herself has also refused to take action, despite entreaties even from the school's founder.
The PEP and Fariña have ignored other abusive administrators at schools across the city, like interim Acting Principal Rosemarie Jahoda at the prominent Townsend Harris High School in Queens, who has provoked a revolt among students and a vote of no confidence from the parent association.
Jahoda was promoted to principal despite the finding by a neutral arbitrator that she harassed the entire Bronx Science math department when she was assistant principal at that school.
---
THE WILLFUL ignorance of the Department of Education and the weakness of the UFT have not prevented teachers and parents from continuing to organize.
A recent letter by members of the Movement of Rank and File Educators (MORE) and the New Action Caucus, two dissident union groupings that recently won seats on the union's executive board, argued, "[I]t is crucial that the rank-and-file members of our union see that the UFT is at the front lines fighting to defend members publicly at every available opportunity."
Citing the incoming attacks from the Trump administration, the union oppositionists argued that in this environment it was especially important for union leaders to support Martinez and appear at her disciplinary hearings. No union leaders showed up.
As MORE Executive Board member Mike Schirtzer put it, "The fight against an abusive principal at CPE1 was another missed opportunity by the leadership of the UFT to...show our members that we will not stand idly by while one of our own is under attack."
Parents and families are outraged at the removal of Martinez and see it as part of a pattern of authoritarianism from Garg that is destroying the educational community they treasure and disrupting the education of their children, as rotating subs come in to cover the charged chapter leader.
Cindy Chau, for example, has a child with multiple disabilities, including Down syndrome and hearing loss, in Martinez' class. "Because Marilyn has believed that my daughter can do the same activities as the other students, she has risen to that challenge," said Chau. "The removal of Marilyn will harm my daughter's well-being and cause regression in her educational goals."
Parents are planning a number of upcoming actions to defend their teachers and put pressure on Fariña and de Blasio to remove Garg. A demonstration and vote of no confidence at the upcoming April 6 School Leadership Team meeting will be followed by continued actions at the PEP.
More than two-thirds of parents have signed a letter stating they want Garg to resign immediately because they have no confidence in her leadership. Meanwhile, Martinez awaits a May 1 decision by an arbitrator. But even if she is exonerated, it may take further pressure to return her immediately to the classroom.
---
THE ABUSIVE actions at CPE1 have come in retaliation against teachers speaking out to defend their school's culture and pedagogical practices, alongside families.
Garg was completely unfamiliar with the practice of progressive education, which emphasizes children's freedom and voice. She tried to implement a number of changes without consulting teachers or parents, claiming that progressive education was not appropriate for children of color.
School founder Deborah Meier even weighed in, stating, "I'm unequivocally on the side of those who wisely have concluded that the current principal must move on [because she did not support] the tradition of collective decision-making, and the belief that all children--not just the privileged--were well served by our kind of pedagogy."
Garg has completely alienated her staff as well as parents at the school. In the New York City Department of Education's annual school survey, she received the lowest rating out of more than 1,500 principals. Only 35 percent of parents responded that they trust her and feel she is an effective manager. On the survey, 99 percent of the system's school principals receive ratings of 79 percent or higher.
Teachers, for their part, are unanimous in saying they do not trust Garg and that she does not have a clear vision or expectations for the school, nor does she know what is going on in their classrooms. Student attendance this year is dropping, as children express reluctance to attend school, and parents say they fear sending their children to a school in which Garg has shown callous disregard for their well-being.
A functional educational community must be built on trust and mutual respect--but superintendents and higher-ups in the Department of Education too often give authoritarian principals free rein.
Only a concerted struggle can win back democracy in our schools, and parents and teachers at CPE1 have led the way. With continued support from their counterparts across New York City, they will continue to turn up the pressure to win a measure of democracy for their school and hopefully restore a decent education for their children.