A Portland school fights for its activist teacher
April 6, 2018
Jamie Partridge reports on the case of a middle school teacher who was wrongfully suspended--and how protest pressured administrators to reverse the punishment.
PORTLAND, OREGON, teacher Chris Riser wasn't surprised that over 100 students at Ockley Green Middle School walked out in protest February 9 on the one-year anniversary of the police murder of Quanice Hayes, a 17-year-old unarmed Black youth.
Hayes was shot and killed in front of his home. Police claim he had reached toward his waistband, but Hayes' family and friends contend he was crawling on his hands and knees toward officers, as ordered, when officers opened fire, striking him three times.
Family members had called for protests on the one-year anniversary, along with Don't Shoot Portland, a local Black Lives Matter group. They also announced a wrongful death lawsuit against the city of Portland that same day.
The multiracial crowd of students marched to the North Portland police precinct, then on to Portland Community College and Jefferson High School to rally and pick up more protesters. A police spokesman reported that "the protesters were peaceful, and officers had no problems to report."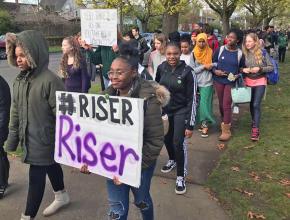 What surprised Riser, a popular Black social studies teacher, was getting slapped with a suspension a month later by the Portland Public Schools (PPS) administration.
The punishment, according to PPS, was for "safety reasons." Students had marched in the street and even staged a four-and-a-half-minute die-in at an intersection--to commemorate the four-and-a-half hours Michael Brown's body lay in the street, leading to the Ferguson uprising of August 2014. While other teachers and staff accompanied the students, Riser was the only teacher punished.
---
ACCORDING TO the Portland Mercury, at an April 2017 school board meeting, Riser and Bryan Chu, a teacher at Boise-Eliot Middle School, harshly criticized how PPS and Ockley Green officials operated the school.
Chu, who also participated in the walkout, alleges that both he and Riser have been targeted by district officials ever since. He says they are "outspoken teachers of color who are really good at what we do, and that's a threat to [PPS]."
Chu believes Riser's punishment "wasn't about the walkout, it wasn't about student safety, it was retaliation"--and that the district's "way to solve problems is to throw someone under the bus."
Students of color make up 60 percent of the student body at Ockley Green. A recent unauthorized student walkout against gun violence, at the predominantly white Mount Tabor middle school, while accompanied by teachers, didn't result in any discipline.
Ockley Green parents immediately started a petition protesting Riser's suspension. The petition, which gained more than 4,000 signatures in the first week, states in part:
Chris Riser is a strong voice for social justice, diversity and equality...Chris Riser is teaching the kids that their greatest weapon is their voice. By placing him on administrative leave, it is teaching our children that speaking up for what they believe in is wrong.
Students say Riser, a graduate of the Portland Teachers Program--a resource to recruit, support and retain teachers of color--has been a powerful, positive role model. "Mr. Riser made me feel welcome," says Jamya, one of those students. "When I was bullied, I could go to him, I can talk to him."
Riser recently received the "Touching the Spirit" award from Teaching With Purpose, a nationally acclaimed organization promoting culturally responsive teaching.
On the first school day after Riser's suspension, a before-school rally led to another walkout of hundreds of Ockley Green students, this time to defend their teacher. Parents then announced they would stage a rally at the school administration building the following afternoon.
That next morning, PPS Human Resources Officer announced Riser's reinstatement, saying: "[I]n response to the school community's feedback to the district, I now have a broad understanding of the historical failure of the district to consistently support the Ockley Green community. Since I cannot be certain of the role that our systemic failings played in this incident, I no longer believe that termination is an appropriate recommendation."
Always the educator, Riser hopes his suspension and reinstatement will teach students about the hypocrisy of school administrators--and about how to fight back, without apology, in the face of repression.