Grand theft postal
February 12, 2013
Postal worker Melissa Rakestraw responds to the USPS plan to eliminate Saturday delivery with the facts about why this is a disaster for workers and customers alike.
ON FEBRUARY 6, Postmaster General Patrick Donahoe announced his unilateral decision to end six-day mail delivery, beginning the week of August 5. This announcement was an insult to postal workers and customers, especially in the face of their protests against the political leaders who have been pushing for cutbacks at the U.S. Postal Service (USPS).
Postal management has been advocating for the elimination of Saturday delivery since the early 1980s, and they now have a manufactured budget crisis to justify it. Donahoe emphasized that regular delivery and outgoing pickup would be halted, though parcels would still be delivered. He also noted that delivery would continue to post office boxes that customers pay a fee to rent.
In his announcement, Donahoe acknowledged that the leading driver of the budget "crisis" is a 2006 law mandating that the postal service, within a 10-year period, fully pre-fund a retiree health care program. This mandate is required of no other public or private agency, and was only imposed after it was discovered that USPS had been overfunding its general pension accounts, creating an $80 billion surplus.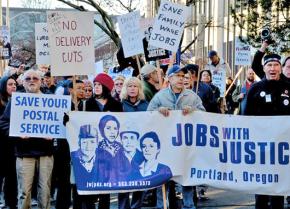 In other words, the USPS was flush with cash at the time, but Congress wanted to keep money flowing into the Treasury to avoid an increase in the deficit numbers--so it passed a law to require a $5.5 billion annual payment for pre-funding the benefits, transferred from the postal service into the federal government's general fund.
This burden generated a false fiscal crisis, particularly once the economy entered recession in the following years. This law has accounted for more than 80 percent of USPS budget shortfalls since it was signed into law.
The 2006 Postal Accountability and Enhancement Act was introduced by Republican Rep. John McHugh of New York--who just so happened to be a member of the right-wing corporate lobbying group, the American Legislative Exchange Council (ALEC). There is little doubt that ALEC backers UPS and FedEx are strategizing to use the USPS crisis as a justification for further privatization measures. The $65 billion generated annually by USPS is an attractive revenue stream for private corporations looking to grow their corporate coffers at the expense of living-wage jobs.
Instead of calling on Congress to repeal the mandate on pre-funding benefits and refund the $80 billion pension surplus, Donahoe is using this as an excuse to cut service and an additional 30,000 jobs.
It should also be noted that the retiree health care account is fully funded for every current employee. What business would lay off current employees in order to assure that workers who haven't even been hired yet received health care benefits when they retire?
---
DONAHOE IS touting an unsourced claim that cutting Saturday delivery will save $2 billion. First of all, this is barely over one-third of the $5.5 billion mandate. Plus, Donahoe's numbers fail to account for the loss in revenue from reduction of service.
Since 2006, more than 200 mail processing facilities have been shuttered, and there has been a reduction in the career workforce of 193,000, mainly due to attrition. Any effort to further reduce jobs will only result in less efficient service and loss of revenue due to customer dissatisfaction.
This is what happened last July, when Donahoe eliminated the standard for first-class overnight delivery and closed more processing plants. This change resulted in a slowdown of first class mail that made it an even less attractive option to customers. There's no question that stopping Saturday delivery of first class mail will further delay timely delivery and lead to decreased revenues.
Donahoe claims that he is responding to customer needs by offering to continue parcel delivery on Saturdays. He misleadingly claims that 70 percent of Americans favor ending Saturday delivery. This specious statistic is based on a Gallup/USA Today poll from several years ago that asked whether the public "wanted" five-day delivery. Neither the media then nor postal management now pointed out that the way the question was asked led people to believe that five-day delivery was necessary to keep the post office going--so the alternatives were five days or no days at all.
The USPS is currently in the process of increasing its workforce of temps, who are paid hourly without benefits. For Saturday parcel delivery under Donahoe's plan, the new hires will be charged with the nearly impossible task of attempting to deliver hundreds of parcels to addresses and customers who are unfamiliar to them. They can't be expected to maintain the consistent and accurate delivery currently provided by regular carriers on Saturdays.
This scheme to provide Saturday parcel delivery is inefficient and unrealizable. USPS currently enjoys a competitive edge because carriers deliver parcels along the normal course of their route. It's why USPS delivers around 30 percent of FedEx's and UPS's package load--it's cheaper for these private companies to hand off parcels to the post office to deliver to communities large and small than pay their own workers to complete deliveries.
With the elimination of Saturday delivery, the USPS will no longer be able to provide the efficient and economical service that has resulted in being consistently ranked as the most trusted government agency.
Customers have already seen a slowdown in service because of plant closures and previous relaxations of delivery standards. If Saturday delivery of mail is eliminated, the system will slow even further. Mail volume is already heavier on Mondays due to the additional day of processing on Sunday. Workers can't compress six days of work into five days without even greater delays.
In essence, Donahoe's plan to continue to cut jobs and services will only make the USPS less relevant to the customers who rely on universal service at uniform costs. Instead of looking to expand services and revenue streams, Donahoe is mounting a "shrink to survive" campaign that will result in death by a thousand cuts.
In fact, Pitney-Bowes, a corporate provider of mail sorting, funded a study that advocates a reduction in USPS delivery to three or four days--with all postal work being contracted out except for the last-mile delivery provided by letter carriers. This would be beneficial to corporate bulk mailers that currently receive bargain-basement subsidized rates since they are unconcerned about prompt delivery of their ads. The Postal Service will be further limited to servicing unprofitable markets that private carriers avoid.
Of course, the customers most severely impacted by these changes, which benefit the privatizers, would be underserved urban communities, veterans, senior citizens, small businesses and rural communities. Almost 30 percent of Americans still lack access to high-speed broadband Internet and rely on prompt delivery of checks and bills through USPS. Donahoe should be advocating an expansion of services to these underserved people by offering high-speed Internet kiosks in local post offices, printing services and additional government services.
---
ALL FOUR of the major unions representing postal workers have denounced Donahoe's willful attack on workers and service, with the National Association of Letter Carriers going so far as to call for his immediate resignation.
Donahoe's surprise attack hasn't been well received on either side of the aisle in Congress, since legislators assert that they alone have the authority to enact such a move. Meanwhile, President Obama has remained deafeningly silent on the defense of living-wage jobs--even though he has the authority to sign a presidential order refunding the surplus in postal retirement accounts.
Donahoe's power grab may simply be posturing on his part to force Congress' hand--or he may feel emboldened since he wasn't confronted when he made previous draconian cuts to processing facilities and services.
Whichever it is, his actions have made it very clear that a strong fightback will be necessary to stave off the push to privatize. In an era of recession and stagnation with unemployment hanging on at high levels, especially for particular groups like African Americans and veterans, the economy can ill afford to lose postal jobs.
Due to a hiring preference, more than 20 percent of postal jobs are held by veterans, 40 percent are held by women, and African Americans comprise 21 percent of the workforce. The USPS is the third-largest civilian employer in the U.S. after Wal-Mart and the federal government and the largest employer of union workers.
This unionized workforce undoubtedly makes the USPS an inviting target for destruction by neoliberal privatizers. So it will take a struggle to turn back the attack, involving not only postal workers, but communities and organizations such as the NAACP and others. Allies can also be found among other public-sector workers, such as teachers, firefighters, bus drivers, nurses and librarians, who have all come under attack in this age of austerity.
Grassroots coalitions have had success in fighting closures and cuts to local post offices and plants. One network of local coalitions, Communities and Postal Workers United, is calling for national days of local action on the weekend of March 17. That's the anniversary of the Great Postal Strike of 1970, a wildcat strike that began in New York City and spread across the country in spite of opposition from both the federal government and union leaderships.
The 1970 strike was key in helping workers gain the ability to collectively bargain instead of settling for what they called collective begging. We need a new struggle on the same big scale.