Building a fight for better wages in Seattle
June 6, 2018
Steve Leigh reports from Seattle on a solidarity rally organized by rank-and-file building trades workers who are fighting to win their fair share.
SEATTLE IS in a building boom, but most building trades workers can't afford to live in the city.
That was the message that 150 members and allies of CORE 46, the Caucus of Rank-and-File Electrical Workers in International Brotherhood of Electrical Workers (IBEW) Local 46, delivered at a rally on May 31.
The level of construction activity in Seattle is three times what it was in 2011. Contractors and developers are making money hand over fist. CORE 46 has been fighting for decent union contracts and against an unresponsive union leadership since a poor contract was settlement three years ago. In one section of IBEW Local 46, union leaders imposed an inferior contract after members had voted it down several times. Another section of the local is organizing to make sure the same doesn't happen to them.
In order to step up the fight, CORE 46 organized a "Cross Trades Rally" of all the construction trades in downtown Seattle. The theme was solidarity between all the trades, and with workers in general.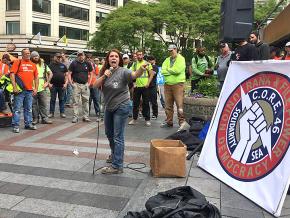 One sheet metal worker explained, "Even with the building boom, the contractors in Seattle are demanding a wage freeze in our next contract. Outside the city, they're demanding a 30 percent wage cut."
Others noted that even workers in trades that are being offered a raise won't get enough to keep up with the rising cost of living.
---
RAISES AREN'T the only issue. Workers are tired of having to pay $25 a day to park near their construction sites. Parking eats heavily into their pay. Health and safety standards are a major concern as well. Long hours and long commutes make workers more tired and prone to accidents.
Another theme at the rally was the need to diversify the building trades, which are currently some 98 percent male and not very racially diverse. One woman got applause when she called for maternity and paternity leave in upcoming contracts and a systematic effort to bring women into the trades.
The theme of solidarity was mentioned over and over. "We are all a family. We need to support each other," said one worker.
"Unions drive social change," said another. "When unions are strong, we all benefit. Workers' interests are all the same. It doesn't matter — race, religion, nationality or sex. And the contractors' interests are diametrically opposed to ours. The contractors try to divide us by trade. Their priority is profit. They don't care about us. If they claim they can't afford a decent wage increase, we should say, 'Open your books!'"
Those who rallied aren't just concerned about their own working and living conditions. "What's going to happen to our future?" one asked. "Already, there aren't enough workers in the trades. If we don't fight now, what kind of jobs are our kids going to have?"
Another theme of the rally was dissatisfaction with the building trades union leaderships. One carpenter explained that union leaders had allowed an attack on the carpenters' pensions. He said that, as a result, contractors would come after other pension plans in the industry.
Union leaders also extended the carpenters' contract for 30 days with a no-strike clause, which weakens the union's bargaining position. He explained that the bosses and union leaders "play golf together. [Leaders of the carpenters' union] forgot that our interests aren't the same as the contractors."
Workers also expressed dismay at the concentration of wealth and inequality in the city. "Seattle is one of the most unequal cities in the country, second only to San Francisco. The top 20 percent take 50 percent of the income! We have five of the richest people in the world in this area, but the corporations say they can't afford our demands," explained one.
---
CORE 46 showed its commitment to solidarity by inviting teaching assistants and research assistants at the University of Washington, who are represented by United Auto Workers Local 4121, to speak. At the time of the rally, these academic workers had been set to go on a 14-day strike (the walkout was later averted when the union's bargaining committee recommended that members ratify a new contract proposal).
Emily, a spokesperson for Local 4121, said, "Many of you walked off the job on May 15 when we had a one-day strike. Thank you! The university tells us the same thing that your bosses tell you: 'We don't have any money to meet your demands.' We don't believe them. Come out to our picket line starting on June 2. Be with us, and we will be with you!"
Most of the union contracts for construction workers actually expired on May 31. No immediate strike is planned, but several workers said that there should be a ban on working overtime to put pressure on the contractors.
Speaker after speaker urged the workers to vote "no" on any bad contract offer as the crowd chanted, "Vote no!" over and over. Organizers distributed buttons saying, "If provoked, I will strike!" as well as CORE 46 newsletters. CORE 46 members invited members of the other trades to attend their next caucus meeting and encouraged them to set up rank-and-file caucuses in all of their unions.
More than one worker called for more rallies like the May 31 demonstration to keep the pressure up on the companies — as well as union leaders — for decent contracts that meet the workers' demands.