Madison labor raises the stakes
February 22, 2011
Robin Gee, an editor at Madison Area Technical College, member of American Federation of Teachers Local 3872 and delegate to the Madison-area South Central Federation of Labor, reports on efforts to block Gov. Scott Walker's union-busting bill.
FOLLOWING A weekend that included one of the largest protests in Wisconsin history, labor activists and the Madison-area labor council are organizing to oppose all provisions of Gov. Scott Walker's union-busting "budget repair bill."
About 40 labor and student activists gathered February 21 to discuss next steps in building a "no concessions" campaign against Walker's bill, which would not only strip public-sector unions of meaningful collective bargaining rights, but also slash pay by forcing public employees to cover 12.6 percent of their health insurance costs and contribute 5.8 percent of their pay toward their pensions. The bill would also force 65,000 people off the Medicaid rolls and gut BadgerCare, the health care program for low-income children.
Our group, which named itself the Kill the Whole Bill Coalition, was formed in part to counter some union officials' public offer of concessions. Marty Biel, executive director of American Federation of State, County and Municipal Employees (AFSCME) Council 24, has stated publicly that his union would be willing to accept cuts in pay and benefits, and even bow to a two-year "freeze" in collective bargaining if Walker agrees to return to bargaining in 2013.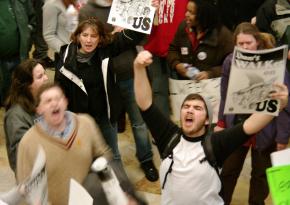 But that's not acceptable to many public-sector workers in Wisconsin, who would see their income slashed by as much as 20 percent under Walker's plan. And with the huge numbers of non-union working people actively in support of our struggle, it's important that we stand in solidarity with the most vulnerable people in our state.
That same sentiment was shared by delegates to Wisconsin's South Central Federation of Labor (SCFL), the umbrella organization for unions representing 45,000 workers in the six-county area around Madison. When I announced of the formation of the Kill the Whole Bill Coalition, the news was welcomed with cheers.
SCFL delegates voted to endorse a national general strike in the event that Walker signs the bill, and designated a committee to educate and prepare our members for such an action.
There was virtually no debate on whether we should endorse a general strike--only how to prepare for one. No one argued for accepting concessions. We have already made concessions for many years, and we've gotten to the point where we've got nothing left to give. For example, members of AFSCME Local 171 are preparing video interviews with their members who work full time and yet receive food stamps.
The meeting also celebrated the solidarity on display in this fight. Workers talked about how student struggles inspired them in this last week of struggle--and some students spoke about how they were moved by the unions' fight, too. Many acknowledged the important role of members of Madison Teachers Inc., who remained off the job for a fourth school day in a row.
---
THE ENDORSEMENT of a general strike by SCFL followed a weekend in which labor flexed its muscles for the first time in decades.
On Saturday, February 19, more than 70,000 people marched in and around the capitol building to chants of "kill the bill" and "protect union rights." It was the sixth day of ongoing protests and an occupation of the building itself.
Students and others, led by the University of Wisconsin (UW) graduate employees union, the Teaching Assistants' Association union, have been sleeping in at the Capitol since February 14 in order to keep control of the building in the hands of workers and keep testimony against the bill going. They've since been joined by workers from many different unions, including the fire fighters and the steelworkers.
While the floor is hard and most get little sleep, participants in the overnight occupation feel that it's worth the discomfort to maintain the "people's capitol" and to continue the momentum of the movement. The sense of solidarity is contagious, with musical performances until midnight or later. Many who turned out on Saturday were excited about their chance to spend the night in the capitol. "It's been one of the best experiences of my life," said Liza Brown, a 19-year-old college student at UW Milwaukee.
Saturday also saw the first organized opposition to the anti-Walker protesters, with a small contingent of Tea Party activists turning out. Police generously estimated the group at between 1,500 and 2,000. They were mostly contained to one side of the Capitol and drowned out by the throngs of union activists who continued to chant against the bill.
A few Tea Party counterdemonstrators attempted to goad people into a confrontation, but the event remained peaceful--so much so that the local police issued a press release thanking the protestors.
Still, sentiment ran high whenever pro-union demonstrators encountered the right-wingers. One Tea Party activist held a sign reading, "I would have come down here earlier, but I had to work." Seeing the sign, several workers shouted "Who do you think gave you the weekend?" Another held a sign chiding teachers for being greedy and unwilling to cooperate.
"Teachers have always been willing to make concessions when our districts were suffering and they asked us to," countered high school teacher Rhett Hanson. "We've been giving since 1993, and we're still giving...But we know we were not in bad shape when he got in. We had a surplus, but Walker held a closed session and gave corporations tax breaks totaling $140 million."
Workers were angry, but the crowd was upbeat. Many families brought their children for an impromptu civics lesson. The importance of the moment was not lost on anyone. "America is waking up!" said Kirk Danhouser, a city maintenance worker and member of AFSCME Local 60. "They used to say 'Remember the Alamo.' Well, now they'll say 'Remember Wisconsin!'"
The crowd included contingents of high school students, immigrant rights activists and several groups of private-sector union members, including Teamsters and members of building trades locals. Many people carried signs calling for no concessions.
"This is about America--our neighbors are here," said Gerard Runde, a UPS worker in Madison and member of Teamsters Local 344. "This affects all workers in Wisconsin. I wouldn't be anywhere else."
Sarah Lynne and Andy Stefan contributed to this article.