It's time the siege was lifted
July 15, 2009
A delegation of solidarity activists from the U.S. is bringing desperately needed humanitarian supplies to the Palestinians of Gaza. The convoy was organized by the group Viva Palestina, led by British Member of Parliament and antiwar activist George Galloway.
The delegation has met one obstacle after another in Egypt, where it assembled to gather the supplies and prepare for the crossing into Gaza. Egyptian authorities last week blocked several buses from crossing the Sinai on the way to the Rafah border crossing, and they continued to delay the full convoy for several more days. Supporters in the U.S. gathered at Egyptian consulates and embassies on Tuesday to protest against Egypt's restrictions.
On Tuesday night, Cairo time, Viva Palestina leaders announced they had finally negotiated an agreement with the government to travel to Rafah and cross into Gaza on Wednesday morning, bringing 11 trucks filled with medical supplies.
After the agreement was announced, George Galloway talked to SocialistWorker.org about what's at stake with Viva Palestina's humanitarian mission.
WE'RE GOING to muster at 4 a.m. Cairo time, and we're going to leave at exactly 6 a.m. for the Rafah crossing point into Gaza. All of our people and all of our medical aid--that will be 11 trucks worth of medical aid--will be going into Gaza.
The one unresolved issue is the fate of the more than half a million dollars worth of brand-new vehicles that we purchased here in Egypt, only to be told after we'd purchased them that they would have to be driven through the Israeli checkpoints.
That is completely unacceptable to us. We never intended--and we don't intend--to enter Israeli territory at all, because we deny the validity of the Israeli right to control entry and exit from Gaza.
So that's a diplomatic problem that has to be resolved, but this will still be a major achievement. It will be the biggest American delegation ever to visit Gaza--possibly ever to visit Palestine. It will be the biggest single amount of aid brought to Gaza, once the trucks are added to it, and the whole thing is a great tribute to all those who played any part in it at all, whether as fundraisers or well-wishers or as the people who've actually come here on the convoy.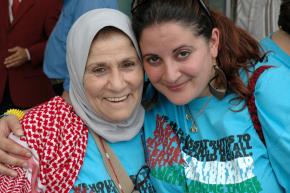 The obstacles they have placed in our path have been considerable. All sorts of bureaucratic hoops have been invented to delay us for reasons I'll be able to more fully explain once we're in and out.
But we have faced it all with fortitude, and by and large with unity--and such unity as we did achieve was in no small part due to the efforts of the ISO on the trip.
The supplies that will get through will mean something practical to a given number of people. But it's a drop in the ocean of trouble that the Palestinian people are adrift in, and we mustn't lose sight of the fact that no matter how many heroic efforts we make at these convoys, only when the siege is lifted will these troubles be able to be properly addressed.
The Palestinian people are being punished only because in a free and fair election, one of the only ones ever held in the Arab world, they voted for a party that Washington and London and Tel Aviv didn't like.
To starve people and kill their children because of how they voted would, I think, strike the American people as very hard to swallow--especially when they hear the United States endlessly preaching about democracy and endlessly preaching about the shortcomings in other people's elections.
Series
Convoy to Gaza
Solidarity activists traveled from the U.S. to Gaza to deliver desperately needed humanitarian aid to the Palestinian victims of Israel's brutal war. SocialistWorker.org writers contributed to this journal during the Viva Palestina convoy.
That's exactly what's happening. Children are being killed because their parents voted the wrong way as far as Washington and London and Tel Aviv were concerned. That's something that has to be stopped.
President Obama said that it was time for the blockade on Gaza to be eased. Well, actually, it's time for it to be lifted. But even if it's just to be eased, why can't his eloquent words be matched by actions? Because let's be clear--both Egypt and Israel are entirely dependent on the financial, diplomatic, military and political support of the United States of America.
The U.S. has enormous leverage. If President Obama told Israel and told Egypt that this siege has to be eased, if not lifted, then it would be done. But he has to tell them. There is no point trying to build castles in the air with wonderful oratory, and we all love to hear him speak. But actions speak louder than words.
Transcription by Matt Korn.