A survivor of trafficking has freedom in sight
January 16, 2019
Camille White-Avian reports on a victory in the case of Cyntoia Brown — and explains why other marginalized victims of intimate partner violence are too often imprisoned.
ON JANUARY 8, Tennessee Gov. Bill Haslam granted clemency to Cyntoia Brown — a victim of sex trafficking who has been in prison for 15 years after being convicted of killing the man who bought her for sex at age 16.
As part of the terms of the clemency, Brown's parole date has been set for August 7. When lawyer Charles Bone informed her that she was finally getting out of prison, "[s]he just lit up with a joy I've never seen before," Kathy Sinback, who had acted as Brown's first public defender, told CNN.
According to Sinback, when Brown was asked if she was disappointed that it would take another seven months to free her, she replied, "Are you crazy? I was supposed to get out when I was 67 years old."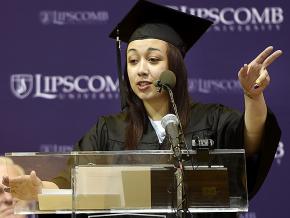 In 2006, Brown was sentenced to life in prison for the shooting of Johnny Allen, a 43-year-old man who picked her up a fast-food restaurant. By the time she met Allen, her trafficker, nicknamed "Cut Throat," had already put her through substantial abuse while holding her against her will after she had run away from her foster home.
"If Cyntoia Brown were tried today, legal experts say she would not have been tried in the same way," WZTV anchor Stacy Case stated.
That this is true is due in no small part to the #BlackLivesMatter and #MeToo movements. It's questionable whether Brown would have been pardoned without the efforts of people like #MeToo originator Tarana Burke and #BlackLivesMatter activists Alicia Garza, Patrisse Cullors and Opal Tometi, along with the hundreds of thousands of people (led predominantly by Black LGBTQ women) who took part in actions and organizing across the country.
Thousands of people flooded the phone lines of Gov. Haslam, demanding Brown's release. The campaign garnered support on social media, including from celebrities like Rihanna.
Clearly overwhelmed by the volume of calls they were receiving in support of Brown, in the month leading up to the announcement of Haslam's clemency decisions, the state even changed its outgoing message to create a separate option for people to specifically leave a comment about Brown's case.
Activists also held a march in Nashville just days before Haslam granted clemency. "We are here because many of us have histories of addiction, violence, many have been in jails and prisons," Samantha Floyd, one of the lead organizers, told the Tennessean. "If she had been treated as a victim that would be an appropriate sentence for manslaughter or a second-degree murder charge.
---
DESPITE THE circumstances of her case, Haslam's choice was not to order Brown's immediate and unconditional release through a pardon, but to instead grant her clemency, which means she will still face years of parole after her August release.
It's an example of the hypocrisy at work in so-called "justice" system — especially when compared to cases highlighted by the #MeToo movement in which white men who rape or murder women received short prison sentences or none at all.
Winning Brown's release is no small victory. But it falls painfully short of real, immediate justice. Speaking on Democracy Now! activist Mariame Kaba explained:
I think people should know that she's being released into supervised parole, which she's going to be on for 10 years. That's a decade, which means she's going to have spent 25 years of her very young life under state supervision.

For those people who don't know, parole is extremely, extremely restrictive. They're going to give a whole set of conditions, which will mostly be arbitrary. If she violates any of those conditions, they could violate her right back to prison. She's going to be spending 10 years basically on pins and needles, making sure that nothing goes wrong...

Missing any sort of parole meetings, ending up going somewhere that she wasn't supposed to go by accident — those things can violate you. And so she's going to have to be very careful for the next 10 years that she doesn't get violated back. So she's not 100 percent free. And I think that's something people should pay attention to.
Much of the mainstream media have tirelessly smeared Brown's character, despite the fact that a man more than twice her age with a history of predatory behavior toward young people was her alleged "victim."
According to the Nashville Scene, one young woman recounted Johnny Allen's behavior toward a friend, saying that she and other waitresses often fought over who would have to serve him because he made them uncomfortable. The woman told a reporter: "At one point, he handed her his Crye-Leike business card. On the back, he'd written, 'You're gorgeous. I'd love to take you out sometime, so let me know."'
Her testimony was left out of Cyntoia Brown's trial, deemed "irrelevant" by the original judge.
Even more chilling and suspicious is that Allen volunteered at a local church as a youth minister — yet such details are frequently left out of mainstream coverage of what lead to Allen's death.
---
THE WINNING of clemency for Cyntoia Brown is already fueling activists to fight for other such cases, including that of Alexis Martin. The Ohio Supreme Court recently upheld Martin's murder conviction for killing her pimp, despite her also being a teen when she was forced into prostitution by adults.
According to the Columbus Dispatch, "Martin and her attorney argue that a juvenile judge made a mistake when Martin's history of sex trafficking wasn't adequately explored at a hearing that determined whether she should be charged as an adult. Martin was 15 at the time of the slaying."
All people should have the right to defend themselves from bodily harm, including women who are being abused or trafficked. There is a fundamental difference between acts of violence committed in self-defense and other forms of violence.
Infuriatingly, many women in prison are there in part due to defending themselves from violence and other forms of abuse. A 2016 Sentencing Project report on incarcerated women and girls indicates that women's rates of incarceration had surpassed that of men's, with many incarcerated because they fought back when being attacked by an intimate partner.
In 2017, Salon.com reported: "Sexual violence is so pronounced among jailed and incarcerated women that Sen. Cory Booker, (D-NJ,) labeled the overarching phenomenon as 'a survivor-of-sexual-trauma to prisoner pipeline.'"
Most women in prison are survivors of domestic or intimate partner violence, with the numbers higher among Black, Latinx and Indigenous women, and poor whites. Despite a population that is 79 percent white, whites represent proportionately the smallest demographic in Tennessee's prisons.
The winning of clemency for Cyntoia Brown will give hope to countless people. As Brown said in a statement: "I am thankful for all the support, prayers and encouragement I have received. We truly serve a God of second chances and new beginnings. The Lord has held my hand this whole time and I would have never made it without Him. Let today be a testament to His Saving Grace."
Brown's family has set up an online fundraiser to help Brown when she is released on parole.
Too often, survivors of intimate-partner violence and sexualized violence outside of the domestic sphere, especially those from marginalized populations, like sex workers and transgender people, are blamed by the system when they defend themselves.
While Cyntoia Brown deserves a full pardon, her victory, while it is far from what we can consider true justice, shows that we can fight for the survivors of sexualized violence and win.