The U.S.-Saudi drive to starve Iran
October 24, 2018
U.S. sanctions will harm the most vulnerable people in Iran while generating further instability in an already tense region, explains Emma Wilde Botta.
THE TRUMP administration is getting ready to escalate its campaign against Iran by reinstating sanctions that were lifted during Barack Obama's presidency after the Iranian government largely gave in to U.S. demands.
But the brazen murder of a dissident by one of Washington's chief Middle East allies and partner in pressuring Iran has the potential to upend these plans.
Everyone knows that Trump hates Iran. He has threatened the country with war multiple times and surrounded himself with Iran hard-liners. At the United Nations General Assembly last month, Trump accused Iran of sowing "chaos, death and destruction" and called on "all nations to isolate Iran's regime."
The U.S. is set to reimpose draconian sanctions on Iran on November 5 that are intended to destroy the country's oil sector and leave the country economically devastated.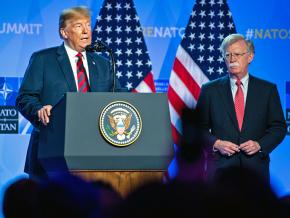 Like previous U.S. sanctions, this new round will hit ordinary Iranians the hardest, as inflation, rising unemployment and lack of essential medicine take their toll.
Trump's plan to starve Iran of oil income relies on Saudi Arabia to stabilize the oil market once these sanctions go into effect. But the Saudi kingdom's murder of prominent journalist and dissident Jamal Khashoggi may undermine the greater coordination and collaboration that Trump seeks.
---
THE 2015 Iran nuclear deal, one of Obama's crowning foreign policy achievements, marked a thawing of relations between the U.S. and Iran. The deal lifted crippling sanctions on the Iranian economy in exchange for a scaling back of Iran's nuclear program and regular international inspections of Iran's nuclear enrichment facilities.
The deal amounted to a diplomatic expression of U.S. imperialism by maintaining the fundamental assumption that the U.S. has the right to control Iran and violate its sovereignty. In fact, the main obstacle to peace in the region is not Iran, but the U.S. and its reactionary allies Saudi Arabia and Israel.
In May, Trump illegally withdrew the U.S. from the deal, setting the stage for ramped-up hostilities. He has appointed Iran regime-change enthusiasts Mike Pompeo and John Bolton to his cabinet, instituted a racist travel ban that hits Iranians particularly hard and used his Twitter platform to threaten Iran with war.
Now Trump is going after Iran's oil sector, the lifeblood of the Iranian economy. Before Trump abandoned the nuclear deal in May, Iran was exporting 2.5 million to 2.8 million barrels a day. Since May, oil exports are down 62 percent.
Trump's withdrawal from the deal sets him at odds with U.S. allies who want to maintain trade ties with Iran. Britain, Germany and France have criticized Trump's dismissal of multilateral diplomacy through international institutions in favor of unilateral bullying. They have encouraged countries to work with Iran to maintain the agreements made in 2015.
As the second largest importer of Iranian oil, the European Union also has an interest in maintaining an economic relationship with Iran.
Buyers of Iranian oil are nervously crafting plans to circumvent U.S. financial sanctions. European Union officials, for example, introduced an elaborate scheme at the UN General Assembly meeting last month for Iran to sell crude oil to Russia, which would refine it and then sell it to European countries. Europe could then sell goods and services to Iran without breaking U.S. restrictions on trade.
The plan helped to forge an uncommon alliance among the remaining signatories to the Iran nuclear deal, and all of them — France, Germany, Britain, Russia and China — declared their support for it. Trump's belligerent foreign policy continues to alienate European allies and so far has mainly served to push Europe to work more closely with China and Russia.
Trump has promised that countries conducting business with Iran will be barred from transactions within the U.S. financial system. European countries may eventually capitulate and refuse to purchase Iranian crude for fear of U.S. retaliation.
China — Iran's number-one customer — continues, however, to ignore Trump's commands. The country has so far refused to cut off purchases of Iran's crude oil, but has indicated it won't assist Iran by buying up excess supply. This latest friction comes as Trump is already lurching toward a trade war with China.
---
IF IRAN'S crude oil is excluded from the market, the global supply of oil would decrease, and the price of oil could rise quickly. Oil prices are already on the rise in recent months due to a decline in Venezuela's oil output.
In an effort to avoid even higher prices, the U.S. is expecting Saudi Arabia to increase oil production to offset the drop in supply. The Kingdom claims to be up to the task, promising to expand production in existing fields and tap into reserve stores if necessary.
However, the murder of Jamal Khashoggi, who was last seen entering the Saudi consulate in Turkey on October 2, has plunged Saudi Arabia into a diplomatic crisis.
King Salman of Saudi Arabia at first denied any knowledge of the incident, but over the weekend acknowledged his death, blaming it on a "brawl."
Trump faces international and domestic pressure to punish Saudi Arabia. Britain, France, and Germany have called for an investigation into Khashoggi's murder. German Chancellor Angela Merkel is preparing to suspend German arms exports to Saudi Arabia.
Republican Sen. Lindsey Graham, who has repeatedly defended U.S.-Saudi relations in the past, called for the removal of Crown Prince Mohammed bin Salman, commonly known as MBS, due to his presumed involvement in Khashoggi's death, and declared his desire to "sanction the hell out of Saudi Arabia."
Saudi officials have hinted that the country could respond to U.S. sanctions by withholding oil from the market — though on October 22, Saudi Energy Minister Khalid Al-Falih stepped back from this threat, saying Saudi Arabia has no intention of repeating the 1973 oil embargo when Saudi and regional allies withheld oil from the U.S. and Europe in response to their support for Israel.
So far, Trump has defended MBS and rejected calls to halt a $110 billion arms deal with Saudi Arabia. He sent Secretary of State to Mike Pompeo to meet with MBS last week.
---
THE ASSASSINATION of Khashoggi is only the latest atrocity in a long history of human-rights abuses by the kingdom.
Saudi women who bravely fought the ban on women drivers have faced imprisonment, forced exile and disappearance. Saudi courts are seeking the death penalty for five nonviolent activists, including Shia activist Israa al-Ghomgham.
Political repression has ramped up since MBS, the main architect of the horrific war on Yemen, was named the successor to the crown. For more than three years, a U.S.-backed, Saudi-led coalition has brutalized Yemen with air strikes and blockades of humanitarian supplies. The United Nations warned last week that up to 13 million Yemeni civilians are at risk of starvation if the war continues.
Despite this, the U.S. has enjoyed a decades-long cozy relationship with the highly repressive monarchy, whose fantastic oil wealth fuels massive arms deals that benefit U.S. weapons manufacturers. According to a recent report by the Stockholm International Peace Research Institute, Saudi Arabia is the top purchaser of U.S. weapons.
Missing from most discussions of Iran are the Iranian people themselves who will ultimately be the primary victims of U.S. sanctions. Ahead of the first wave of renewed sanctions imposed by Trump this past summer, protests broke out across Iran, with slogans centering on the high cost of living and government corruption.
Though Trump cynically claims to support anti-government protesters, he doesn't care at all about ordinary Iranians.
His enthusiastic renewal of sanctions previously led to a lethal shortage of lifesaving medicines. And Trump's belligerence gives Iran's hardliners the necessary rationale to crack down on protesters and to reassert their grip on the levers of power.
The planned economic war on Iran is a further step in implementing the Trump administration's more aggressive, unilateralist foreign policy — but the brazen, murderous actions of America's favored Arab ally could delay or derail its plans.