and
Madison has no police in Pride
August 13, 2018
Ashley Jones and Alex Buckingham report from Madison on a victory for activists who opposed a police contingent in the annual LGBTQ+ Pride Parade.
THE OUTREACH LGBT Community Center in Madison, Wisconsin, announced on August 10 that it would stand up to the bullies in blue and refuse local law enforcement's application to march as a contingent in this year's LGBTQ+ Pride Parade.
Initially, police intimidated OutReach into allowing a police contingent — which would have included the Madison Police Department (MPD), Dane County Sheriff's Office and University of Wisconsin Police Department — with the implied threat to revoke its permit and shut down the August 19 parade altogether.
But community outcry over the presence of the police in Pride — and activist organizing — forced OutReach to reverse its decision.
Police have been a fixture of the Pride parade in Madison since OutReach took on organizing responsibilities in 2014. In the weeks before the 2017 parade, many people came forward with concerns over police providing a security presence to the parade, as well as marching in uniform alongside rainbow-covered squad cars.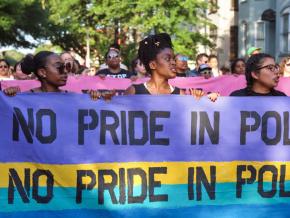 When OutReach discussed eliminating the annual police contingent this year, the MPD made it clear that they would march regardless of OutReach's requests. OutReach's executive director explained:
OutReach is able to do the Pride Parade because of a permit from the City of Madison's Street Use Committee. Twelve departments of the city sit on that committee. The MPD is the most important department because they provide security to the event; without their approval we are not allowed to have a parade.

During our discussions, the MPD made it clear that eliminating their Pride contingent from the parade was not an option. Their Pride group is an LGBT Employee Resource Group of a professional organization; they think we would be discriminating against them by allowing many other professional ERGs to march and excluding them.
Discrimination against the police isn't actually possible under the law, as they aren't a protected group, like those targeted due to their race or national origin.
One can assume that the MPD knows this. Just two years ago, Wisconsin police organizations supported a so-called "Blue Lives Matter" bill that would have made police officers a protected class. The bill has since failed to move forward.
Ultimately, local activists convinced OutReach that the MPD's implied threat to withhold a permit needed to be denounced and resisted. But our side faced several obstacles to building the kind of solidarity needed to take on police intimidation.
For example, three out of six of OutReach's major funders are the city of Madison, Dane County and the state of Wisconsin. The group's dependence on the city for funding makes it difficult for them to resist the city's police threats.
This led to some organizers to call on OutReach to pass the torch and allow another group to organize the Pride march. This would have been one way to overcome the organizational limitations that OutReach organizers admitted they ran up against.
Furthermore, when activists tried to use OutReach's Facebook page to raise their concerns about police involvement, they found their comments deleted and themselves blocked from posting. Many of these silenced activists were queer people of color.
It was clear that OutReach was struggling to balance its organizational limitations with its stated commitment of struggling for the oppressed. It took activists organizing to overcome these limitations.
---
OTHER CITIES have experienced similar conflicts over the relationship with the police, as well as the overall corporatization of Pride.
At Toronto's Pride last summer, organizers agreed to end the practice of having uniformed police attend, "but later changed their position on the demand to kick the cops out of Pride, creating a rift in the queer liberation movement between those in solidarity with Black Lives Matter-Toronto and those holding onto the respectability of Pride parades populated by major corporations and gay police contingents," reported SocialistWorker.org.
Pride is, after all, a commemoration of the 1969 Stonewall Rebellion led by queer and trans women of color in response to police repression of the LGTBQ+ community. And today, LGBTQ+ people, especially LGBTQ+ people of color, are disproportionately targeted by and harassed by the police. As SocialistWorker.org reported:
More than half of respondents (58 percent) to the 2015 U.S. Transgender Survey reported high levels of mistreatment and harassment by police. This includes being intentionally misgendered, deadnamed (when a trans person is called by their birth name instead of their chosen name), and verbally, physically or sexually assaulted. Some reported being forced by officers to engage in sexual activity to avoid arrest...

Given these statistics, it makes sense that more than half of all respondents (57 percent) would feel uncomfortable asking police for help, leading more LGBTQ people to decide not to report hate violence to the police out of fear of retribution.
Last year, activists in Columbus, Ohio, organized an action during Pride to draw attention to the injustices faced by the LGBTQ at the hands of police, only to be maced by the police, brutalized and arrested on trumped-up charges. Sadly, the Pride organizers in Columbus didn't support the activists, and a board member of the group even testified against them.
Despite its liberal reputation, Madison is among the most racially unequal cities in the country. According a 2012 report, Black youth in Dane County, Wisconsin, were six times more likely to be arrested than white youth in 2010 — the national average is 2-to-1.
In 2015, the police killing of unarmed Black teenager Tony Robinson sparked an explosion of protest that shined a spotlight on the MPD's racism. The cop that killed him, Matt Kenny, remains on the police force that wants to march in our Pride.
---
ACTIVISTS SHAWNA Lutzow and Johanna Heineman-Pieper are helping to link the relationship between racism and queer oppression, organizing monthly forums hosted by OutReach.
After last year's Pride, Lutzow says the forum "was all about if cops should be allowed to march in Pride. Kiah [Price, who was lecturing,] shared a detailed history of the origin of Pride and the relationship between police and queer and trans people, especially queer and trans people of color."
The ongoing anti-racist work within the Madison queer community, the Black Lives Matter movement and the dominance of people seeking solidarity since Trump's election all contributed to OutReach working on keeping a police contingent out of Pride.
Initially, OutReach compromised with police, planning on the contingent being limited to plainclothes cops, still carrying their sidearms, marching without squad cars. Knowing that this was not enough, activists — including Lutzow, Heineman-Pieper, members of the International Socialist Organization and others — came together to discuss organizing an alternative "Community Pride."
The ad hoc coalition reached out to various endorsers of OutReach's Pride and called on them to pull out of the event and participate in Community Pride. While some groups failed to understand the divisiveness and intimidation that a police contingent creates, others, like Planned Parenthood of Wisconsin, accepted the call to boycott.
Other organizations drafted their own letters to OutReach, pressuring the group to get rid of a marching contingent of cops at Pride. Due to this pressure from individuals and organizations, OutReach met demands to rescind the contingent applications of police departments in Madison.
---
THIS VICTORY led to a backlash against OutReach's decision, including right-wing "Blue Lives Matter" forces. This is why we must now mobilize in force for Pride on August 19. We have to show that the community supports canceling the police contingent, and that defenders of police pinkwashing are a small minority.
The Community Pride coalition said in a statement:
To our friends, supporters, collaborators and comrades, we want to make it crystal clear that we have earned an important victory. We took a stand and demanded that OutReach rescind its invitation to the Madison Police Department, the University of Wisconsin Police Department and Dane County Sheriff Mahoney, and we won.

In light of OutReach's decision, Community Pride will march as a contingent in this year's parade. We will continue our call to oppose police at Pride in future years and across the nation. We also will schedule an organizing meeting for all who want to join us next week. We know there will be backlash to this decision, and that is part of why it is important to march in the parade and defend this victory...

The police drove a divisive wedge into our vulnerable community. Now is the time for celebration of our victory, pride and moving toward collective community healing.
Activists are already thinking of next steps in this struggle, including the exclusion of any police presence at Pride; accessible health care in Madison, including mental health clinics and free transition-related services; and eliminating the police presence elsewhere in our communities, including our schools.