Eating with the underdogs
June 11, 2018
Joe Richard pays tribute to Anthony Bourdain and his great contribution in honoring everyday people from around the globe, and how they cooked.
ANTHONY BOURDAIN probably did more than any other chef to bring about the culinary renaissance currently underway in the U.S. His books on the restaurant industry, like Kitchen Confidential, were half gonzo autobiography, half user guide, and all irreverent humor, spoken in the salty patois of kitchen subculture.
Through his various TV series later in life, such as Parts Unknown, he brought to viewers the humble but unique cooking traditions of the world's everyday people, including the poor and powerless.
Bourdain, who was found dead of an apparent suicide in a hotel room in France, inspired a generation of new cooks, professional or not, to get into cooking, and experiment with different foods from around the world.
He always seemed to me to be a sort of Johnny Cash character of the restaurant world: a rock 'n' roll figure who lived hard for a long time and did his share of fucking up. He struggled with heroin addiction, but eventually got cleaned up and started a family later in life. Maybe he found a little redemption somewhere along the way.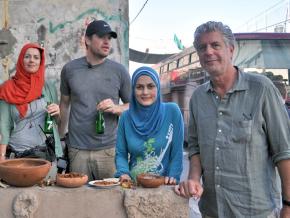 Bourdain was a classically trained chef, a graduate of the Culinary Institute of America, and a successful chef and restaurateur in the New York City food scene. But unlike other celebrity chefs, he never seemed to lose a certain humility that was evident in his career in front of the camera.
Rather than celebrating the latest overpriced culinary fads that remain the exclusive purview of the global elite, he seemed more happy in his television shows to muse over a bowl of spicy noodles, home-cooked fare or grilled street meats after a night out on the town in one destination or another.
Instead of letting his success go to his head, there was always a touch of awkwardness about his presence on a TV screen. He seemed almost uncomfortable with the self-knowledge that — as many no doubt jealously felt, including myself, he seemingly had the best job in the world as a globe-traveling food enthusiast.
Who else could make a whole show called The Layover that documented his indulgent attempts to find the best food, spirits and R&R in between traveling from one new country to another.
Bourdain kept his darkly funny and self-deprecating sense of humor throughout his TV career. More likely to crack jokes about himself, he exhibited great respect for many of the people he interviewed and dined with around the world.
But part of the funniness of his shows was also that he had an unconvincing poker face. The audience could tell when he smelled bullshit from someone trying to pull one over on him, or answer one of his questions evasively.
---
BOURDAIN WAS no respecter of borders, and throughout his career, he was vocal about the absurdity of dividing people from each other for arbitrary reasons.
After years in the restaurant industry, he was no stranger to the fact that U.S. restaurant kitchens — among many other workplaces — survive and thrive on low-paid and exploited immigrant labor. He maintained a deep respect for the sweat and tears of his undocumented co-workers in the different kitchens where he worked, and was vocal about improving restaurant working conditions.
In recent episodes of his show Parts Unknown, he used his platform to denounce the racism and xenophobia of the Trump administration, and to highlight the unique contributions of different immigrant groups across the American landscape.
His instincts and his background led him to identify with the underdogs of the world. As the years went on, he clearly became more interested in talking politics and the questions of the day, rather than having his shows be narrowly focused on food.
One episode of Parts Unknown took him to occupied Gaza, where he offered his U.S. audience a glimpse into the brutal conditions of life and the simple dignity with which Palestinians attempt to exist. Later in the episode, he confronted an Israeli settler about his thoughts on some of the ugly racism he encountered while shooting the episode.
In Season 4 of Parts Unknown, Bourdain explored the depths of despair involved in the heroin epidemic ravaging small towns and suburbs across the U.S., with more than a little hard truth and on-camera vulnerability about his own demons.
He had examined the human cost of the drug trade more than once before: visiting Medellín, Colombia, and hanging out with young people from Pablo Escobar's old neighborhood; and commiserating over their shared unhealthy life choices in earlier times with Iggy Pop (now a health enthusiast) in Miami Beach.
In yet another episode, Bourdain shut up and gave voice to a group of Jamaican fishermen attempting to organize community resistance against a global hotel company displacing them from their livelihood.
On television, he never acted like anyone's savior, but used the platform he had to let other people tell their stories.
---
IN RECENT years, after a second divorce, Bourdain had an ongoing relationship with Asia Argento, the Italian filmmaker, artist and now vindicated accuser of ex-producer and serial rapist Harvey Weinstein.
In just the last few months, Bourdain had been an outspoken supporter of the #MeToo movement, amplifying Argento's voice in calls for the prosecution of Weinstein and others.
Unlike other male celebrities who have discreetly kept their silence about high-powered abusers and harassers, Bourdain publicly celebrated Weinstein's fall and recent arrest, as the nearly 3 million followers of his personal Instagram account know.
When Argento delivered a bombshell impromptu speech about sexual assault within the film industry and beyond at this year's Cannes Film Festival in mid-May, Bourdain celebrated her "dropping an unexpected nuke on the crowd. #BOOM."
Coming from an industry notoriously rife with sexual assault and harassment, Bourdain was the anti-Mario Batali (another TV celebrity chef, now the target of fresh allegations of drugging and raping multiple women in his New York City restaurants).
Bourdain's loss will no doubt be felt heavily by the people he inspired, and who loved his contributions in the realm of culture. His death is a reminder that, no matter their public persona or life accomplishments, everyone struggles with their own demons and regrets.
Given all the cruelty, darkness and brutality of the world today, the world is a sadder place now that he's gone. But millions of people will remember him fondly and set a place for him in their thoughts.
This one's for you, Tony.