Turning down the role of defending Israel
May 4, 2018
Natalie Portman may oppose the BDS campaign against Israel, but her decision to refuse a prestigious award shows its growing impact, writes Khury Petersen-Smith.
ISRAELI APARTHEID suffered its latest setback at the end of April when Natalie Portman publicly refused to accept the Genesis Prize in response to Israel's deadly repression of the Great March of Return.
The Great March has involved mass mobilizations at the border between Israel and Gaza that started on March 30, Land Day, and will end in May on the 70th anniversary of the founding of the Israeli state and its declaration of war against the Palestinian people.
Israel met this nonviolent demonstration with cruel and deadly force: Snipers using live ammunition have killed dozens and wounded thousands, many with injuries deliberately intended to maim.
This violence is drawing condemnation around the world, but Portman's decision to voice her criticism came as a surprise, to say the least.
The Genesis Prize was created in 2013 with the purpose of honoring people who "inspire others through their dedication to the Jewish community and Jewish values." But such inspiration is directly linked with Zionism, and the mission also reads that "the Genesis Prize inspires unity throughout the global Jewish community and the State of Israel."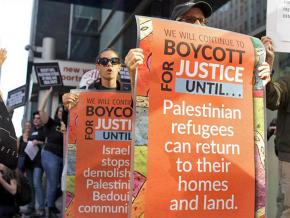 Coming with a cash award of at least $1 million, the selection of awardees is made by leaders of Israeli politics and society, and is announced at the residence of the Israeli president.
The prize is awarded at an extravagant ceremony, with dignitaries present and extensive media coverage. But not this year.
The 2018 ceremony was cancelled when Portman's representatives notified the award committee that "recent events in Israel have been extremely distressing to her and she does not feel comfortable participating in any public events in Israel"--and that "she cannot in good conscience move forward with the ceremony."
---
PORTMAN'S DECISION is stunning and a boon to the movement against Israeli apartheid, not only because of the very public nature of the award, but the history of its recipient.
In addition to being an award-winning actor, Natalie Portman has been a vocal proponent of Israel. She has used her celebrity to defend Israel, even as its racism and violence made it increasingly unpopular in world opinion.
During her time as a student at Harvard, Portman was lawyer Alan Dershowitz's research assistant, working on Dershowitz's (subsequently discredited) book The Case for Israel.
A liberal Zionist, the Israeli-born actor has expressed her ambivalence about Israel's actions and its history in recent years. Her debut as a director came with the 2015 film A Tale of Love and Darkness, which explores the history of the Zionist state's founding and attempts to acknowledge that it came at the expense of the Palestinians who were forcibly displaced.
The film came in the context of Israeli politics continuing to careen to the right.
Previously, though the racist violence of ethnic cleansing has characterized the Zionist project since before Israel's founding, Israel also relied on an image cultivated for the global stage of being a liberal democracy and pluralistic society.
Thus, Israel would commit crimes against the Palestinians, but they would be challenged by people like Amos Oz, a liberal Zionist critic of Israeli policies, whose memoir inspired the film that Portman directed.
But the room for even liberal defenders of Israel to contest its actions has waned as the Israeli government and society have become more openly racist.
Portman has spoken critically of right-wing Prime Minister Benjamin Netanyahu, and her mixed feelings come through in an interview she gave at the time of the film's release: "You look at your country, and it's not what you want it to be. It's not what you wish it could be. But of course, we have to strive for what could be, but also live with what exists, and what is, and be pragmatic."
---
IF PORTMAN'S ambivalence about Israel has grown in recent years, the movement for boycott, divestment and sanctions (BDS) against Israeli apartheid has grown immeasurably more.
In the past decade, writer Alice Walker, influential producer Brian Eno and Pink Floyd's Roger Waters were among the celebrities to speak out as vocal proponents of a cultural boycott of Israel, while artists from Björk to Snoop Dogg quietly canceled gigs there.
Each high-profile Israeli military operation against Palestinians has earned further condemnation from entertainers, with rappers Waka Flocka Flame and French Montana both tweeting "Free Palestine" during Israel's attack on Gaza in 2014.
Perhaps the biggest recent victory in the cultural boycott came with New Zealand's pop superstar Lorde's announcement on Twitter last December that she would cancel an upcoming concert in Tel Aviv because it was "the right decision at this time."
The success of the cultural boycott has caused alarm in Israel, with the government calling BDS a "strategic threat" to the state. At a March 2016 conference in Tel Aviv about BDS, Israeli government and media leaders discussed combatting BDS, including systematically working to discredit its most vocal proponents--especially if they are Palestinian.
Israel has had help. The French government has criminalized organizing for BDS. In the U.S., lawmakers at the state level have introduced legislation that would allow similar legal repression to undermine BDS.
And operations like Canary Mission have targeted Palestine solidarity activists for character assassination through anonymous black-list websites.
With each concert booked in Tel Aviv and each Israeli award invitation accepted, the stakes get higher on both sides: If a celebrity goes through with an appearance in Israel, it's a victory for the Zionists. If they back out, especially publicly, it's a blow.
This is why, despite the fact that Portman explained on social media that she does not endorse BDS, but that her decision was based on opposition to Netanyahu, her refusal of the Genesis Prize is still a success for the movement in solidarity with Palestine.
If there is any doubt about the impact of Portman refusing to accept the award--and about Israeli politicians' utter disinterest in democracy--just look at the Israeli right's response to her decision. Arch-racist Likud Party Knesset member Oren Hazan called for stripping Portman of her Israeli citizenship.
---
PORTMAN'S DECISION is the latest indicator of the fact that Israel is becoming indefensible, even for public figures.
And the broader movement to boycott Israeli apartheid is fueling an urgent set of conversations about the rights of Palestinians, Israel's violence and racism--and about the other governments and institutions that support Israel.
This is why those artists who refuse to join the boycott--with the justification that it squelches dialogue--are so wrong.
Some artists who have supported other social justice causes, such as Lady Gaga, or who have cultivated countercultural personas, like Nick Cave, have enthusiastically performed in Israel as an overt statement against BDS.
But perhaps the worst betrayal was Radiohead's concert in Tel Aviv last summer.
From its early fame, Radiohead recorded and performed songs that call attention to political corruption, war and violence, wealth inequality, ecological destruction and other social issues.
But in explaining why the band chose to go ahead with its Tel Aviv performance in the face of a vocal campaign against the decision among fans and beyond, front man Thom Yorke said that when artists boycott Israel: "You're not bringing people together. You're not encouraging dialogue or a sense of understanding."
But if Yorke and others are interested in "dialogue," they are curiously silent as Israel carries out very public crimes. How does the "dialogue" include Palestinians at all? What "dialogue" can take place when the Israeli state, with the support of a majority of Israeli society, is committed to responding to any form of dissent with violence and repression?
The fact is that artists and scholars who honor the boycott have contributed far more to a conversation about injustice in Palestine and a just solution to it than those who have defied it.
The more momentum grows for the boycott--and the more naked and visible to the world Israel's violence becomes--the more likely it is for public figures like Natalie Portman to take a side, even if she disagrees with BDS. That provides more opportunities for the movement to build solidarity with Palestinians in their freedom struggle.
This is the key point. We should welcome performers who are genuinely moved by the Palestinians' cause and speak out in solidarity, as Chicago rapper Vic Mensa has done recently in talking about the connections between the oppression of Palestinians and that of Black people in the U.S.
With Portman, her criticism of Israel is limited and not a consistent recognition of the oppression of Palestinians, but it is nevertheless a significant setback for Zionism.
In the face of racist governments and media that demonize Palestinians as "terrorists," asserting the humanity of Palestinians is a crucial task for anti-Zionists.
We should fight for everyone--including public figures--to recognize that humanity. But our key focus can be less the soul-searching of individual celebrities, and more making it clear that support for Israel lands them on the wrong side of history--and they should therefore honor the boycott.