Editorial
Would this White House ever believe women?
February 13, 2018
Donald Trump only seems to care about "due process" when it's for sexual abusers like himself--but he's not the only one smearing women who dare to speak out.
WHAT WILL it take?
The latest example of the Trump administration's utter contempt for women who speak out against sexual harassment and abuse took the form of a photograph of Colbie Holderness's black eye--the result of a beating by former husband, White House Staff Secretary Rob Porter.
White House officials were aware, going back to Porter's appointment as a top aide, that Holderness and Jennifer Willoughby, his second wife, had detailed years of abuse. But it was only after Holderness' photo was released and published on February 7 that she was heard.
At that point, White House officials ceased their defenses, and Chief of Staff John Kelly switched from calling Porter "a man of true integrity and honor" to telling colleagues he was willing to resign himself if that's what the administration wanted. Porter, who still maintains his innocence in spite of the evidence, was forced out.
But the image of a battered woman looking back at him from a photograph not only had no effect on Donald Trump--it prompted him to double down on his smears against women who dare to speak out against sexual abusers like himself.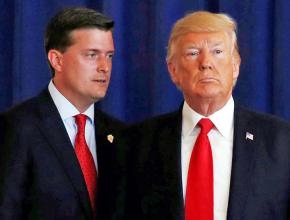 "Peoples lives are being shattered and destroyed by a mere allegation," Trump tweeted on February 10. "Some are true and some are false. Some are old and some are new. There is no recovery for someone falsely accused--life and career are gone. Is there no such thing any longer as Due Process?"
"Due process"? That's pretty rich coming from a real law-abiding citizen like Donald Trump, who spent his previous career in real estate flouting rules and regulations that protect people from predators like himself.
And it's downright infuriating considering Trump's own relationship with "due process" in the 1989 case of the Central Park Five, five Black and Latino teenagers who were wrongfully accused of the rape and near-murder of a white woman jogging through Central Park. DNA evidence later exonerated them, but only after they spent years unjustly imprisoned.
At the time, the five 14- to 16-year-olds were the subject of a racist hysteria, with the media convicting them long before they entered a courtroom.
And Donald Trump led the way. He bought ads in four New York City newspapers calling for the death penalty: ""How can our great society tolerate the continued brutalization of its citizens by crazed misfits? Criminals must be told that their CIVIL LIBERTIES END WHEN AN ATTACK ON OUR SAFETY BEGINS!""
Thirteen years later, after their convictions were overturned, Trump still dared to insist that the Central Park Five were guilty. Too bad there's no due process for the Central Park Five to see justice done regarding their persecutor-in-chief.
In response to Trump's sudden appreciation for "due process," Central Park Five member Raymond Santana responded by Twitter: "You should have spoke like that back in 1989...#thecentralpark5, you called for the #deathpenalty, we were 14 & 15 years old."
---
TRUMP ISN'T the only one cynically using concerns about due process to criticize women for speaking out in the months since #MeToo captured national attention.
Since the Internet campaign to break the silence about sexual harassment and assault began last fall, dozens of high-profile men in Hollywood, the media and government office have been forced to respond to women speaking truth to power--and in stark contrast to the situation before #MeToo, some of the abusers lost their jobs and careers over it.
Not everyone is happy with this development, of course. Some people--the accused and their defenders, but not only them--are claiming that #MeToo is having too large an impact, too quickly.
But their problem isn't with "due process" itself. It's with women speaking out and seeking their own process of any kind, which was denied to them in the past. The #MeToo movement has not only exposed how routine sexual harassment and abuse is, but the fact that women had no way to combat it until they spoke out.
The mechanisms that are supposed to protect women from abusers are woefully inadequate at best--while the ones that protect abusers work all too well.
In Porter's case, his past abuse of partners was well known to the FBI, which is supposed to conduct an investigation of White House staff for them to obtain top security clearance.
The FBI informed the White House of the charges--which kept Porter from obtaining a permanent security clearance. But it didn't stop him from getting and keeping a top job in the White House--in fact, Porter helped write Trump's State of the Union address last month.
The first instinct of administration officials on hearing that the accusations were going to go public wasn't to investigate but to circle the wagons around Porter, who claimed that his ex-wives were making up stories about him. The New York Times reported that Press Secretary Sarah Huckabee Sanders and Communications Director Hope Hicks, who had been dating Porter, called on Kelly to support Porter. Kelly agreed to a statement condemning the charges as "vile."
Republican Sen. Orrin Hatch, who Porter served as chief of staff before landing the White House job, had a similar message. He called the accusations against Porter "a vile attack on such a decent man"--but changed his tune when the photos were released.
---
IN THE face of a system that shields sexual harassers and abusers, especially the powerful among them, it took the voices of thousands of women speaking out to begin forcing any kind of change.
#MeToo isn't too much, too fast--it has been decades in the making. The power of women stepping forward and speaking out hasn't diminished justice, but increased the possibility for it.
And if there's any justice at all, this should be just the beginning for the Trump administration.
Last week, Trump speechwriter David Sorensen was also forced to resign after it became public that his former wife, Jessica Corbett, told FBI agents conducting a background check that he had abused her, including driving over her foot and putting out a cigarette on her hand.
Another prime candidate for takedown by the #MeToo movement sits behind the desk in the Oval Office. More than a dozen women have come forward with allegations of sexual assault and abuse against Donald Trump, prompting calls to investigate the misogynist-in-chief himself.
Several high-profile cases of sexual harassment and worse among members of Congress have shone a needed light on the legislative branch's own ineffectual rules and regulations, which put obstacles in the way of women seeking justice.
But without continued pressure from below, there is still a danger that politicians in Washington will put the brakes on any significant change.
The thousands of women stepping forward with their stories, and being met with solidarity, is transforming how women think about features of day-to-day life that they were expected to endure in the past--and what they need to do to organize against it.