Two Tennessee towns turn back the far right
October 30, 2017
Neo-Nazis hoped that rallies in two Tennessee towns would reverse recent setbacks, but anti-racist counterprotesters handed them another defeat, reports Robert Wilson.
ANTI-RACIST ACTIVISTS overwhelmed white nationalist forces in two Tennessee towns on Saturday, October 28, outnumbering the fascists in Shelbyville and compelling them to cancel their event altogether in Murfreesboro.
Both towns had been on edge since neo-Nazi groups announced plans for what they hoped would be a repeat of the violence and terror carried out in Charlottesville, Virginia, in August, where scenes of street fighting ultimately gave way to murder by motor vehicle.
But anti-racist forces from across Tennessee and the region bravely mobilized to say that the white supremacists weren't welcome. In Shelbyville, where the day's first event was scheduled, hundreds of anti-racists more than doubled the 150 or so white nationalists who gathered behind a heavy cordon of police protection.
When the Shelbyville event ended, the anti-racists made their way to the site of the next protest in Murfreesboro, where an even larger crowd of counterprotesters--more than 1,000--had assembled to confront the white supremacists.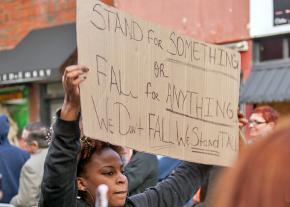 But the neo-Nazi groups canceled--making the announcement via Twitter--and the far right never mustered more than 30 or so, again with heavy police protection. The anti-fascist gathering protest turned jubilant as word spread that the white nationalists had abandoned their own rally.
Many of the same far-right groups behind the events in Charlottesville had spearheaded plans for the Tennessee rallies under the banner of the Nationalist Front--which acted as an umbrella for several groups, including the National Socialist Movement, Traditionalist Worker Party, League of the South, White Lives Matter, American Vanguard and the Klan.
After failing to mount credible rallies in Boston and the San Francisco Bay Area in August, some among the white supremacists advocated a retreat from their strategy of mobilizing in liberal strongholds, opting instead to hold rallies in smaller towns in red states where they would find a more sympathetic audience and more cooperative police departments.
Indeed, they may have found friendlier police--according to reports, police in Shelbyville made anti-racists leave behind anything that could be used as a weapon or even for self-defense while the racists were allowed to assemble with helmets and shields.
But the people of Tennessee proved no more inclined to welcome the white supremacists than their blue-state counterparts.
---
ORIGINALLY BRANDED as "Unite the Right 2.0" to position it as a sequel to the Charlottesville demonstration, organizers eventually changed the name to "White Lives Matter."
Featured speakers included Matthew Heimbach, leader of the Traditionalist Worker Party, and Michael Hill, president of the League of the South. The demonstration in Shelbyville, a town of 21,000, was deliberately located near housing projects that are home to a large immigrant and refugee population.
Brad Griffin, a member of the League of the South, explained that the motivation for the rally was twofold: First, to criticize Trump for not politicizing a recent shooting at a Nashville church by a Sudanese-American man, and second, to "protest the ongoing problem of refugee resettlement in Middle Tennessee."
In the last 15 years, about 18,000 refugees have resettled in Tennessee, which is less than 1 percent of the state's population.
In Murfreesboro, a city of about 100,000, Middle Tennessee State University President Sidney McPhee issued a statement cancelling a number of university events and outlining plans to lock residence halls and apartments for the weekend ahead of a rumored torchlight rally on the university's campus.
The event flyer encouraged male participants "to wear something similar like some combination of a white or black polo and khakis," and for women to dress modestly, a trend activists also noted in Charlottesville and apparently an attempt to give a respectable veneer to a violent ideology.
The White Lives Matter rally also tried to capitalize on the findings of a recent poll showing that a majority of white Americans believes white people face discrimination.
But according to Nashville resident and anti-racist protester Eric McDermott, the showing by the neo-Nazis was nothing short of pathetic:
There was one guy draped in a Confederate flag and wearing Air Jordans, which--the irony does not fail you...There was three of them for about an hour and then four or five more of them trickled in...a total of maybe 10 people on the Nazi side of things. One guy had a sign but I couldn't really see it...Their turnout was so low that it seems to me like we accomplished something by showing up.
---
A NUMBER of anti-racist groups in Middle Tennessee came together to organize the counterprotests, including the Tennessee Anti-Racist Network, Statewide Organization for Community Empowerment and Surenxs en Acción, as well as national organizations and networks such as Stand Up for Racial Justice and the Democratic Socialists of America. Local churches and faith communities also joined forces to show solidarity against the white nationalists.
Two local interfaith groups, Shelbyville Loves and Murfreesboro Loves, also hosted family-friendly cookouts with banner- and sign-making activities for community members and counterprotesters.
While the white nationalists shouted the infamous Nazi slogan "Blood and soil" and other chants like "Closed borders, white nation, now we start the deportation," counterprotesters responded with "Show me what democracy looks like! This is what democracy looks like!" and "No fascists, no KKK, no racist USA!"
"I'm furious that these Nazis think they can come to Middle Tennessee to recruit so they can terrorize and intimidate immigrants, refugees, and communities of color," Candice, a counterprotester from Nashville, told Socialist Worker. "We need to stand up and fight these guys back."
Unfortunately, notably missing from the counterprotest coalition was the Black Lives Matter chapter of Middle Tennessee, which released a statement saying, "We believe that gatherings of neo-Nazis and Klansmen like these distract us from the destructive ways systemic white supremacy rallies against the lives of Black and Brown folks in Middle Tennessee and this country every day," adding that "we believe that these rallies are times for white people to step up."
---
ACTIVISTS NOTED a sizable police presence with snipers on roofs, drones and helicopters in the air, and barricades and checkpoints on the ground. Most of the police presence was directed at anti-racist activists as opposed to the white nationalists.
In sum, the day was a major victory for anti-racists. The large size of the counterdemonstrations, the inability of the white supremacists to mete out violence or injure the targets of their fury, and the broad-based coalition that was able to mobilize to defend these small cities from the far right all contributed to this outcome.
Roaming white nationalists did spark a fight after taunting a biracial couple in Brentwood, Tennessee, following the rally, but there have not been other reports of violence or major conflict.
Candice, the activist from Nashville, said she was encouraged that there was a strong showing from the local community and also that it appeared "most of the counterprotesters had traveled from nearby cities like Nashville, Chattanooga and Knoxville."
Knoxville anti-racists made a particularly strong showing in Murfreesboro and Shelbyville, having had to defend their city from the far right this past August, overwhelming the racists with roughly 3,000 counterdemonstrators compared to a few dozen white supremacists.
This sort of regional solidarity is crucial when any town or city comes under attack, and the left also must adapt its strategy to build power within rural working-class communities now in the sights of the far right.
"We don't want to do anything that makes [the far right] look good," David Clark, a member of Shelbyville Loves, told reporters. "They're here to recruit our neighbors, and we love all our neighbors."
Working-class communities such as Murfreesboro and Shelbyville dislike hate groups as much as major metropolitan areas, and building local united fronts against hate needs to be a crucial component of any anti-racist strategy to beat back the rising tide of reactionary sentiment across the country--by empowering working people everywhere to fight for a better world for themselves and their neighbors.