Battling a common enemy from Latin America
July 27, 2017
Isabelle B. reports on the first major BDS campaign to originate in Latin America.
MORE THAN 200 Latin American organizations and activists published an open letter on July 9 to the board of directors of Cemex, a Mexican construction materials company, calling for an end to its participation in Israeli apartheid.
Ready-Mix, a subsidiary of Cemex, operates factories in illegal Israeli settlements in the occupied West Bank and Golan Heights, and has provided materials to build checkpoints and the tram service connecting settlements in East Jerusalem, not to mention the illegal apartheid wall itself.
This campaign is significant not only for its large scale and base of support, but also because it is the first major international BDS campaign originating in Latin America.
In an article for Electronic Intifada, Abdulrahman Abunahel, a spokesperson for the BDS National Committee, said the campaign against the Mexican firm will "not only expose its complicity in serious violations of international law but will also affect its contracts."
As with most corporate interests involved in the occupation, Cemex's crimes do not end in Palestine. As Isabel Rikkers, a member of BDS Colombia, said: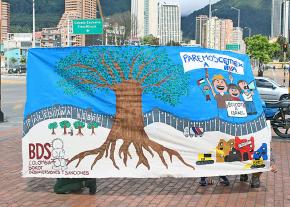 Part of the inspiration for this campaign came from Cemex announcing they were willing to help build the U.S.-Mexico border wall. It is clear that Cemex is involved in actions that promote apartheid and occupation in Palestine, and therefore they are violating international law. We also want to call attention to the fact that their actions in Latin America, including here in Colombia, have created a number of social and environmental conflicts as well.
---
FOR DECADES, Cemex has been causing enormous damage all over Latin America. Activists and organizations involved in this campaign want to emphasize that the corporations which profit from Israeli apartheid are causing harm in other parts of the world as well--and that solidarity with the Palestinian cause is linked to their own health and well-being.
This especially hits home in Bogotá, Colombia's capital, where BDS Colombia is based.
On June 5, 2010, an injunction was issued to suspend all mining activities at CEMEX Colombia's El Tunjuelo quarry, located in Bogotá. The injunction stated that since 1950, CEMEX Colombia had illegally changed the course of the Tunjuelo River, drying it up completely in some parts, and had used the edge of the river for illegal mining activities.
Activists in the area had been fighting Cemex for years before the injunction. As Andrey Tellez, a spokesperson for El Movimiento Cívico, said in a forum on the social and environmental effects of mining activity:
The mining activity in our territories causes diseases and damage to our common spaces, and affects the life of an area with serious social problems and with few opportunities. Mining ends up benefiting a few companies like Cemex and Holcim, which derive high returns, but don't compensate the city for the damages, and the employment they generate is minimal and precarious.
In an article published at BDSMovement.net, BDS National Committee spokesperson Abunahel was quoted welcoming the efforts of Latin American movements and organizations on the #StopCemex campaign:
Palestinians and Latin Americans share many experiences of oppression, but we also share experiences of popular resistance. It's inspiring to see Latin American movements and organizations pressure the huge Mexican building materials company Cemex to end its involvement in Israel's violations of Palestinian human rights. At the same time, we support their struggles against injustice and walls affecting their own region. Our struggles unite.
This sentiment was echoed by Rikkers of BDS Colombia, who said, "The #StopCemex campaign embodies the BDS movement's understanding of international solidarity, which is once again key to winning this fight."
Considering the current humanitarian crisis in Gaza and Israel's recent efforts to advance the occupation of Jerusalem, including increased security measures around al-Aqsa mosque and extension of the light rail system to illegal Israeli settlements, these kinds of campaigns based on solidarity from below are needed now more than ever.