Nabra Hassanen had more than one murderer
June 21, 2017
If Virginia authorities have their way, the anti-Muslim hate that set the stage for the murder of a young woman will go unchallenged, writes Elizabeth Schulte.
SEVENTEEN-YEAR-old Nabra Hassanen was returning with a group of friends for all-night prayers at the All Dulles Area Muslim Society center in Sterling, Virginia, in the early-morning hours of June 18 when she crossed paths with Darwin Martinez Torres.
The 22-year-old Martinez Torres reportedly drove up on the group of teens, chased them, attacked Nabra, who was wearing an abaya, with a metal baseball bat, and put her in his car afterward. Nabra's body was found in a pond later that evening, beaten to death.
Taking all these details into consideration, Fairfax County police concluded that the reason for Torres' attack was...road rage.
Nabra's family and friends, however, see her abduction and murder in a clearer light. "This is a hate crime," her father, Mahmoud Hassanen, told reporters the day after the murder. "It's racism. Getting killed because she's Muslim."
The Council on American Islamic Relations (CAIR) is calling for an investigation. "We'd like to hear from the witnesses to the initial attack as to whether they heard any biased statements," said Ibrahim Hooper of CAIR. "Even if not, why is this individual targeting a group of people dressed in Muslim attire? Would they have been targeted if they hadn't been of a certain faith or ethnicity?"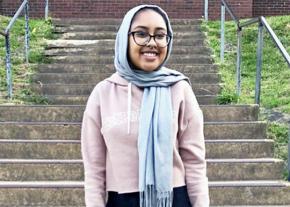 Hundreds who joined a protest in Washington, D.C., on Tuesday to show their solidarity with Nabra echoed this sentiment.
"The police are saying the murder was because of road rage. Why as a Muslim do I find that hard to believe?" said Dr. Maha Hilal. "Since 9/11, Muslims have been systematically targeted and discriminated against by the U.S. government. While that has been more obvious under the Trump administration, it is nothing new."
---
NABRA'S FAMILY has good reason to suspect she was targeted because she was Muslim. According to a 2017 CAIR Civil Rights report, from 2014 to 2016, anti-Muslim bias incidents jumped 65 percent--and in the same period, hate crimes targeting Muslims went up 584 percent.
These incidents have only increased since Donald Trump took the White House, where he has reinforced every bigoted anti-Muslim idea in society--not only with rhetoric, but with action, like attempting to ban citizens of seven Muslim-majority countries from entering the U.S.
But while skyrocketing anti-Muslim attacks are staring law enforcement officials in the face, they won't take them seriously, preferring instead to focus on what they consider to be the "real" threat--Muslims themselves.
The media is an eager accomplice in this, too, according to a study from Georgia State University.
"When the perpetrator is Muslim, you can expect that attack to receive about four and a half times more media coverage than if the perpetrator was not Muslim," researcher Eric Kearns told NPR. In other words, "a perpetrator who is not Muslim would have to kill on average about seven more people to receive the same amount of coverage as a perpetrator who's Muslim."
This media bias contributes to the toxic climate of Islamophobia--but by whipping up fear and hysteria, it helps create an atmosphere where more attacks are possible.
NPR cited another study from the University of Michigan in which people were shown video clips with different portrayals of Muslims. Those who watched news stories portraying Muslims as terrorists were more likely to support unconstitutional policies against Muslim Americans.
Hate crimes committed against Muslims expose the ugly double standard about what is taken seriously as terrorism and what is not.
In London, just after midnight on Monday morning, a white man driving a van plowed into a crowd of Muslim worshippers as they stood talking outside a mosque in the Finsbury Park area. One man was killed and at least 10 more injured in the attack by a man whose neighbors acknowledged that he was racist toward Muslims.
In this case, British officials called the atrocity what it was--terrorism--which is a rare occurrence. But that didn't prevent the victims of terrorism, as even the right-wing media acknowledged from becoming the target of suspicion.
"For a long time, Finsbury Park was synonymous with two things: Arsenal Football Club and the radical, hook-handed cleric Abu Hamza al-Masri," wrote Newsweek, referring to a man who is serving life without parole in a U.S. jail on terrorism charges and hasn't been affiliated with the mosque for about 13 years.
Newsweek and the rest of the media were less quick to point out these more recent facts: Last summer, the mosque was one of several that was sent envelopes containing white powder, including one that had "p*** filth" written on it. And in 2015, an arsonist threw a petrol bomb over its gates.
---
IF GOVERNMENT officials took a fraction of the resources they use spying on Muslims and looking for "terrorists," and instead committed it to protecting Muslims now under increased attack, we might not be mourning these victims in Virginia and London.
Some 20,000 people in Britain are on a "terror watch list" almost exclusively made up of people who are young and traveled to Syria, according to a report by the BBC.
It's at least a small recognition of reality that this week's terrible attack in Finsbury Park is being called "terrorism." But just naming this kind of violence properly won't stop the wave of attacks directed at Muslims.
To find the accomplices responsible for these terrorist attacks, Donald Trump and Theresa May need look no further than their mirrors.
The hate and fear they use to scapegoat and demonize Islam--all to divert attention from their own crimes and bolster their war on terror around the globe--puts a target on the backs of Muslims, at home and around the world.
And it is political leaders like Trump and May who have provided a breeding ground for the far right to grow and become more emboldened. This week, while members of a London mosque gathered donations for victims of the Grenfell Towers fire, a few members of the far-right Britain First organization protested outside to spread their filth, saying, "They're all Muslim terrorists."
What we really need is a war on Islamophobia. But that isn't going to come from political leaders. It will need to be built by people standing up to hate and discrimination wherever it rears its head--in the airports under Trump's racist ban, in demands for justice for victims of hate crimes, and in counterprotests against the right.
As a young Muslim woman at the protest for Nabra Hassanen said:
We will not be silent in the face of terror. We will not be silent in the face of hate. We will not accept the lie they peddle that this somehow happened in a vacuum--that this is somehow not impacted by a climate of dehumanization and hatred.
Leonard Klein contributed to this article.