Human rights leader in Mexico assassinated
May 16, 2017
Miriam Rodríguez's murder was designed to spread terror, but those organizing against Mexico's "war on drugs" say they will keep up the struggle, writes Todd Chretien.
HEAVILY ARMED men broke into the home of Miriam Elizabeth Rodríguez in San Fernando, Mexico, on the evening of May 10--Mother's Day in Mexico--and shot her 12 times at close range. Several family members survived the attack, but she died on the way to the hospital.
Miriam was the leader of the San Fernando Collective for the Disappeared (Colectivo de Desaparecidos de San Fernando) and a well-known human rights activist in the border state of Tamaulipas.
In 2012, her 14-year-old daughter Karen was abducted and disappeared as violence against civilians, perpetrated by both drug cartels and Mexican police and armed forces, reached a new peak.
When government officials refused to investigate her daughter's kidnapping, she organized a search on her own, eventually locating Karen's remains in an unmarked grave. Rodríguez found evidence linking the Los Zetas--founded as the armed wing of the Gulf Cartel drug gang by ex-members of Mexico's special forces--to the crime. Eventually, several members of Los Zetas were convicted and sent to prison in Ciudad Victoria.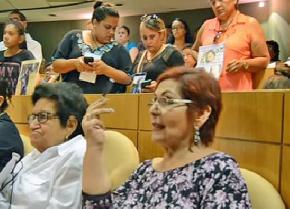 On March 22, 29 prisoners escaped from Ciudad Victoria prison--owing to the authorities' incompetence or complicity--including members of the Los Zetas that Rodríguez's campaign for her daughter helped convict.
She immediately requested protection from local authorities, and police officials claim to have added extra patrols near her residence. But Rodríguez was killed in a professional hit clearly designed to send a message to other families seeking justice for their loved ones.
Guillermo Gutiérrez Riestra, president of the Families and Friends of the Disappeared of Tamaulipas (Familiares y amigos de desaparecidos en Tamaulipas), said in an interview that there is a lot of fear right now, but also a determination to resist:
The most important thing now is to warn about the dangers we face. Not only about the potential crimes that could be committed against us, but because we have taken a stand against the arguments used to justify these crimes. We must point out the culpability and responsibility of the federal and state governments. Even today, four days after the crime, no one is offering any security measures for our protection.
---
IN 2006, newly elected Mexican President Felipe Calderón of the conservative National Action Party (PAN) declared the so-called "war" on drug cartels. Over the last 10 years, Democratic and Republican administrations in the U.S. have provided more than $1.5 billion in funding, arms and training for a campaign that done little to stem the flow of drugs, but caused more than 100,000 deaths and 30,000 disappearances--including 23,000 deaths in 2016 alone, according to the International Institute for Strategic Studies.
The most notorious case of drug-related state violence was the abduction and disappearance of 43 students in Ayotzinapa, leading to an international campaign demanding their return and the prosecution of those responsible, including high-ranking government and military officials.
The often-macabre methods by which massacres are conducted--complete with mass executions, torture, beheadings and public hangings--have led to spontaneous evacuations of whole neighborhoods and contributed to millions of desperate people fleeing the violence.
Perhaps most terrifying is the crisis of femicide. According to one report:
Between 2011 and 2014, the rate of feminicides increased five times, and between 2013 and 2015, 6488 women were killed. In 2016, 3,000 women were killed between January and mid-October, of which 1,185 have been identified as feminicides. In Mexico, a country of 120 million inhabitants, 77 percent of feminicides are not prosecuted, with a large proportion of bodies never identified.
Violence against women is so pervasive that activists have forced the government to issue "Gender Alerts" for whole municipalities when concentrations of murder, rape, disappearances and abuse increase. But activists are wary about placing any trust in the authorities. As Mexican socialist feminist Josie Chávez Rodríguez explains:
The challenge is to use the Alert as a tool to generate new and unprecedented processes of alternative power, feminist autonomy. We must make it clear that the Alerts themselves will not eradicate violence against women. We need to create more powerful means to question the real patriarchal causes of violence against women. We must report, monitor and apply political pressure.
The symbiotic relations between cartels, police, military, the ruling parties, private business and other state institutions have made a mockery of the legal system.
This and the scale of the killing have together provoked a powerful grassroots movement across Mexico that has undermined the credibility of the state itself, bringing down dozens of local political officials and even governors. Meanwhile, approval ratings for Mexican President Enrique Peña Nieto of the centrist Party of Institutional Revolution (PRI) hover at historic lows.
Miriam Rodríguez's work in Tamaulipas represented exactly this kind of grassroots political organizing. After her daughter's disappearance, she initiated a committee that eventually included 600 families dedicated to searching for family members and demanding justice.
Despite the very real and present danger from the same killers who assassinated Rodríguez, Guillermo Riestro promised that families in Tamaulipas will keep pressing their demands for justice: "We are working with all the collectives to develop a joint response...Everyone is very upset, very angry with the government."