A not-so-strange kinship
December 12, 2016
Lichi D'Amelio explains the bond between water protectors and military veterans that she witnessed on a trip to bring solidarity to the Standing Rock struggle.
WHEN VETERANS Stand for Standing Rock put out the call to "self-deploy" 2,000 military veterans "in support of the Sioux Nation and against the DAPL pipeline," the response was swift and massive.
Sitting around the wood-burning barrel stove at one of the nine mess halls at the Oceti Sakowin camp, one of the lead organizers of the initiative told activists hunched over their hot meals that the group had collected more than $1 million in donations in 23 days--with an average donation of $19. So great was the response, in fact, that organizers had to cut off registration for veterans wanting to attend at 2,100. Thousands more who missed the cutoff simply came on their own.
The camp had been busily preparing for the planned December 4 arrival of the vets for nearly two weeks, setting up a vets' check-in center, constructing large sleeping tents, and adjusting and coordinating food and sanitation needs. When the caravan of buses and cars began rolling into Oceti Sakowin camp, hundreds of water protectors were lined up and down Flag Road--the main strip of the camp lined, with flags representing hundreds of tribes--fists in the air and tears in their eyes to greet them.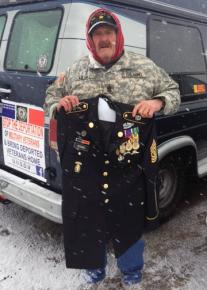 It may seem odd that an encampment at the center of a Native-led movement that includes thousands of people who consider themselves antiwar would so eagerly and enthusiastically greet the arrival of people who may have participated in the wars many there had protested.
Moreover, the U.S. military as an institution has historically flouted treaties and always opposed the sovereignty of First Nations, oftentimes using its soldiers to forcibly remove Native American tribes from their ancestral lands.
But we live in an odd and contradictory country. Many people may be surprised to learn, for example, that Native Americans serve in the U.S. military at a higher rate than any other group.
---
BILL WILDCAT of the Lac du Flambeau Band of Lake Superior Ojibwe is one of them. A former Marine who served in Panama, Granada and Lebanon, among other tours, Wildcat spent two months preparing for his trip from Wisconsin to stand with Oceti Sakowin. When asked about the main reason he came to Standing Rock, he cited "the brutalization that the people are taking," adding, "I went through this in '85 with our tribe over spearfishing rights."
In Northern Wisconsin in the '80s and '90s, white residents attacked Ojibwe people exercising their sovereign right to spearfish walleye. The Ojibwe bands signed three treaties that "transferred the entire Ojibwe homeland in Wisconsin to the federal government," according to Wildcat--who added that in the treaties, "the Ojibwe retained the right to hunt, fish and gather wild rice and maple sap on lands they ceded to the United States."
Nevertheless, conservative union locals, politicians and courts endlessly repeated the racist refrain that the Ojibwe were receiving "special treatment."
"So when I got out of the Corps, that's what I walked into when I got home," Wildcat said. "Something similar to this."
The experiences of veterans are wide-ranging, and though it is almost never discussed, there is a long history of veterans of turning against the very government they fought for. There is a well-trod path from serving empire to supporting and joining radical movements opposed to imperialism.
John Adams is a case in point. An Army vet who served in Vietnam, Iraq, Afghanistan, Somalia, Kosovo and Granada until he retired in 2008, Adams said he'd "been [protesting] this kind of stuff ever since." On the back of his car was a large bumper sticker that read, "Stop the deportation of military veterans, and bring deported veterans home."
When I asked him to talk about the meaning of the sign, Adams explained:
In 1996, Bill Clinton signed the Illegal Immigration Reform and Responsibility Act and gave border agents unlimited powers to choose who and who not to deport. What happens is these guys come back from combat, and they try to get into the VA system, and the appointments are so far out that they start to self-medicate--you know, alcohol and whatnot--and they end up screwing up.

I should've been to jail many times for my self-medication, but if I'd have gone to jail, I'd have done my time and gotten out. But these guys are getting deported out of the country.

They took the oath to defend this country and they love this country, and they come here and start a life, and they screw up. And the next thing you know, they're in Mexico or whatever country they came from...The government just throws them away like garbage.
Adams wasn't part of the official delegation of Veterans Stand with Standing Rock, so he drove up with another vet who "is one of the brothers facing deportation right now." If the deportations don't stop, Adams continued:
I'm taking my uniform off and sending it back. I don't need it--and I mean it. Matter of fact, I brought my dress blues with me because I was going to throw them. It's not the country, it's the system, it's the government or the agency--whatever you want to call it. It's the system, this broken system, and they can't do that to the veterans.
---
A FEW veterans I encountered felt a natural kinship with the camp and the cause. "This is just like one of the camps we'd set up and live in, except smaller scale," said one of the vets sitting around the stove. "I consider myself an environmentalist, and Native Americans were the first people here! They know what's right for their land."
Aurora Child, who arrived with the enormous December 4 delegation, had joined the Navy in 2001 in response to the September 11 attacks. She was just 17. She said:
When I was serving in the military, I quickly realized that things weren't quite how they said. When I was young, I believed that the U.S. helps people get freedom and helps people find democracy. But then, when we were over there, we were fighting for oil, and everybody knew it. I saw them bomb Fallujah from my ship, and they killed thousands and thousands of people for oil. That's how I feel about it. I participated in that, and I haven't been right ever since.
Unsure whether the days ahead would bring a confrontation with the pipeline company's security forces, Child's resolve was palpable. "This is our opportunity to do what's right," she said. "And get a little redemption for ourselves."
That sentiment is widespread among at least a sub-section of vets. Before Child and the mass delegation arrived, hundreds of vets were already at the Oceti Sakowin camp, some for weeks and others for months.
Members of groups like Iraq Veterans Against the War (IVAW) have played a crucial role in providing emergency services to help deal with the treacherous weather conditions, winterizing the camp by building sturdy structures, working in the kitchens to feed their fellow activists, and going to the front lines to stand up to pipeline security agents and the multitude of state police forces that have been brutalizing water protectors since the protests began. During the blizzard that hit the camp hard on December 5, IVAW members helped transfer elders and children out of the camp to safety.
Even in the midst of the blizzard--the day after the unexpected announcement that the U.S. Army Corps of Engineers had denied an easement necessary for construction, and thus temporarily halted the building of the pipeline--vets led a march to the barricades that block protesters' access to the construction site.
As elders held a ceremonial prayer, some vets gave impassioned speeches over the ferocious winds to cheers of "Mni wiconi!" ("Water is life!").
---
MEANWHILE, At Prairie Knights Casino, just south of the encampment, a different kind of ceremony was taking place. Led by Wesley Clark Jr., who initiated Veterans Stand for Standing Rock, veterans knelt in front of First Nation elders and asked for forgiveness for the historic crimes committed by the U.S. military against Native peoples. Clark's moving words began:
Many of us, me in particular, are from the units that have hurt you over the many years. We came, we fought you, we took your land, we signed treaties that we broke, we stole minerals from your sacred hills, we blasted the faces of our presidents onto your sacred mountains, when we took still more land.

And then we took your children, and then we tried to take your language. And we tried to eliminate your language that God gave you and that the creator gave you. We didn't respect you. We polluted your earth. We've hurt you in so many ways. But we've come to say that we are sorry.
Bowing down, he continued, "We are at your service, and we beg your forgiveness," as an elder touched his head.
This historic encounter--between former members of the world's largest and most brutal fighting force asking for forgiveness and the victims of one of its most enduring crimes--was all but ignored in the mainstream press. But it should serve as a poignant reminder of the potential for a different kind of society and world--forged in solidarity and constructed on the ashes of the old.
Radical and radicalizing vets have historically played a key role in movements to stop various wars--wars often waged in pursuit of oil, as Aurora Child noted. So perhaps it's only fitting that they are now stepping into the movement for climate justice, so intimately linked to the rights of First Nations. And they're being welcomed with open arms.