Saving a beacon of progressive education
May 19, 2016
Leia Petty, a member of the United Federation of Teachers, reports from New York City on the struggle of teachers, parents and students over the soul of a beloved school.
THREE HUNDRED parents, students, teachers and community members protested on the steps of the New York City Department of Education (DOE) on May 17 to call for the removal of Principal Monika Garg from the Central Park East 1 Elementary School (CPE 1).
Garg was placed in charge of the school last fall despite having no background in the educational model that has made it famous. Central Park East was founded in 1974 in the aftermath of social movements that demanded culturally responsive pedagogy, and schools as places where democracy and child-centered learning can flourish.
CPE 1 emphasizes inquiry-based teaching, collaborative school culture and an individual approach to each student. It rejects the excessive (and educationally ineffective) use of homework and standardized tests that are so common in most public schools today.
It is not an understatement that the school is considered legendary in New York City--as evidenced by its equally "legendary" waiting list, which is an important indication of the gap between the intense interest in progressive education and the lack of access to this model of schooling.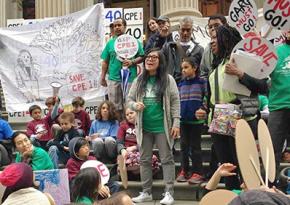 It's unclear if Garg was deliberately installed at CPE 1 to undermine its unique educational model or if there was just little thought behind the decision by DOE officials. But she has done everything in her power to undermine a culture that has been built over decades by educators and staff, and that has been a beacon for those resisting the corporate interests governing school policy today.
CPE 1 has been a model and training ground for multiracial progressive educators and parents, which is why Garg's actions have unleashed a storm of opposition from past and present members of the CPE 1 community.
Sixty-five percent of parents at CPE 1 and more than 2,500 supporters, including the school's founder, Deborah Meier, have signed a petition to Mayor Bill de Blasio and DOE Chancellor Carmen Fariña demanding that Garg be removed, and that her replacement be chosen in a transparent manner, with input from the school community.
---
THE PASSION and determination to fight for progressive education was apparent at the rally. The sounds of civil rights songs like "This Little Light of Mine" and "We Shall Overcome"—and chants like "Be progressive! Not oppressive!" and "Garg must go!"—could be heard from blocks away.
A number of young CPE 1 students spoke to the rally, demonstrating the confidence and values they've gotten from their school.
"This school is fine as it is, it doesn't need to change," said Diego. "[Garg] has created a lot of chaos. My school is not the same as before. She many be good at another job, but not at our school. We should all have a say in this."
A fourth-grade student said: "I am worried that other students won't have the same thing I have. I am worried about the third graders and second graders especially. If they don't have what I had, I'm going to be very sad. We need our school back."
As Garg has attempted to ram through her overhaul of progressive pedagogy with an increasing focus on standardized test prep with pre-packaged curriculum, she has encountered resistance from teachers, many of whom signed an open letter to the principal raising concerns about the direction of the school.
Most of those teachers have now found themselves under formal investigation from the DOE over a variety of charges. These investigations are understood by many people as retaliation for standing up to Garg. But rather than stifling protest, they have only inflamed it.
Parents are also angry about the way these investigations have been conducted. Very young children were interviewed without their parents' consent or knowledge. Some were asked about events that took place two years prior, when they were in Kindergarten. The students were told that they must maintain secrecy about the interviews and that they needed to answer questions in order to keep their school "safe."
This is why one of the actions leading up to the protest today involved more than 30 parents filing complaints at the offices responsible for investigations about how the investigations had been handled and in support of one such teacher under investigation.
And it's why the demand to remove Garg was central to the rally demands. As long as she remains, parents fear that the school will lose its most experienced teachers.
Jim, a veteran teacher at CPE 1, made connections at the rally between union rights and progressive education. "Every teacher who doesn't have tenure but supports us isn't here today because they're scared," he said. "Every experienced teacher is currently under investigation. [Garg] has worked actively to divide us and undermines our work with children."
Garg claims that the school needs to change in order to meet the needs of "all children"--implying that children of color and poor children cannot learn through progressive education. The argument echoes the way corporate-backed supporters of charter schools and high-stakes standardized testing invoke the language of civil rights, and it has angered parents of color who consciously chose CPE 1 for their children because of its progressive model.
Kenya Dilday, whose daughter is in second grade, says she is disturbed by the principal's divisive tactics. "I'm a person who made a choice for my daughter," Dilday said. "To have Monika tell the whole community that my daughter needs a different kind of education because she is a Black child is humiliating. In a city of segregated schools, our school is voluntarily integrated. We need to protect it against those who would divide us."
Aixa Rodriguez, a parent activist from the Bronx who came to the rally to support the campaign, pointed out the hypocrisy of the Farina's insistence on "school choice" as a mechanism to address issues of school segregation and struggling school communities.
"A pattern is emerging across the city," Rodriguez said. "They are trying to get veteran teachers out. If you are not down with the testocracy, they try to get you out. No one is listening to parents. Why is this happening across the city? They want to talk about school choice? CPE 1 was your choice!"
---
DESPITE THEIR claims of wanting equal educational opportunities for all children, those in charge of local and national school policies are in fact saying that poor and working class students are somehow not fit for the rich curriculums and child-centered pedagogy that is currently on offer for the children of the rich and powerful.
The Obamas, for example, have pushed states to test-centered educational models, but sent their own children to the private Sidwell Friends, which has an average grade school class size of eight students, robust arts and theatre programs, well-trained and experienced teachers and a progressive pedagogical philosophy based on "equality, peace, social justice, simplicity, and service to others," according to the school's website.
Are we to accept that our children don't deserve the same?
This was a theme that parent and alumna, Anika Baxter Tam spoke to at the rally. She said that she chose CPE 1 because she knew her son needed a school that focused on social-emotional development of the whole child. But she continued, "Every child deserves a school that focuses on the whole child."
This campaign showcases a courageous and inspiring display of solidarity between parents, teachers and students—one that offers many lessons for others fighting for public education across New York City.
When de Blasio was elected mayor in 2013, many New Yorkers expected a major change in educational policies from the 12-year reign of Michael Bloomberg, a champion of the corporate education reform so beloved by his fellow billionaires.
Instead, there has been little change, as the new regime negotiated a concessionary contract with the UFT and maintained the implementation of Common Core standards and their corresponding tests.
In fact, this past year the supposedly progressive de Blasio administration has launched an unexpected escalation of the corporate school reform model--pushing for mayoral control, restarting school closures and removing teachers via direct orders from Chancellor Fariña. Superintendents have been given renewed power teachers across the city are reporting increased ruthlessness during their visits to schools.
Unfortunately, the leadership of the United Federation of Teachers (UFT) continues to praise both de Blasio and his education Chancellor Fariña as key allies, even as those who learn and work inside schools experience a different reality.
---
THE WIDESPREAD support from across the city for those fighting to save CPE 1 shows more people are realizing that de Blasio can't been counted on—and that the collective organizing and activism of teachers, parents and students is our only hope.
The Movement of Rank and File Educators (MORE), a social justice caucus running against the current UFT leadership, has joined the fight to save CPE 1. MORE's presidential candidate Jia Lee spoke at the rally about the continuity in policies under de Blasio:
CPE 1 was one of the very first efforts to bring progressive, whole-child education to the inner city. Every child has a right to this. Because of CPE 1, other schools have been able to foster this kind of education. It symbolizes engagement versus teaching our kids to comply.

De Blasio and Fariña are part of the same corporate reform agenda as Bloomberg. Everything has been cosmetic, and there are parallels here to the national election happening. The lesser evil is still evil, and we need to focus on bottom up organizing to make our voices heard.
Last year, CPE 1 had an 80 percent opt-out rate, which demonstrates the unified vision that parents, teachers and students have for their school. They are building on this unity and are fierce in their insistence on providing quality education for each student.
More is at stake than the fate of one elementary school. If parents and educators win, it sends a strong message and reclaims much needed power for our side in the battle against mayoral control and top-down education policies that most of us are simply used to accepting.
The struggle also points toward the shared interests that parents and teachers have in the fight for public education--that working conditions and learning conditions are intimately linked.
"This is not just about CPE 1. This is part of a fight for the schools all our children deserve," said CPE 1 parent Jennifer Roesch as she closed the rally. "If they can go after one of our most established, most successful and most loved schools, they can go after any school in the city. This is not the end of the fight."