Why UW should cut the ties to prison labor
April 28, 2016
Activists in the Black Lives Matter movement at the University of Washington (UW) have led a series of protests in the past month. On April 5, 500 people marched across campus to disrupt a university "dialogue" on micro-agression to demand that the administration take real action on institutional racism. Then on April 14, students confronted the UW Board of Regents over investments in private prisons and contracts with companies that use prison labor. The following is a speech given to the Board of Regents by UW student Michael Anthony Moynihan, a.k.a. Renaissance the Poet.
MY NAME is Michael Anthony Moynihan, a.k.a. Renaissance. I am a double major in History and Philosophy here at the University of Washington, who is graduating at the end of this quarter. I am affiliated with the Black Student Union, I am a Black Lives Matter activist in the broader community, and my family is from Seattle.
I am here today on behalf of a coalition of students, faculty members, staff members, community members and UW administrators who either work for, attend, utilize the facilities of, or otherwise interact with the University of Washington.
I am here to speak with you, the Board of Regents, to discuss the University of Washington divesting from prisons. There are several moral and pragmatic reasons for doing such, but before getting into that, I need to mention that my undergraduate research has been into the school-to-prison pipeline, mass incarceration, the prison-industrial complex and police brutality--and how the evolution of these systems and practices pertain to Reconstruction, civil rights and Black Power.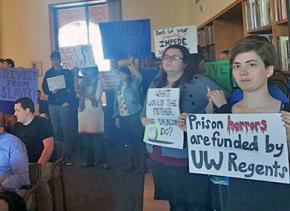 First, slavery was outlawed in the United States with the ratification of the 13th amendment to the U.S. Constitution with one caveat: slavery is still constitutionally permissible as the punishment for a crime. Convict leasing was quickly written into many state laws during the Reconstruction era, which permitted penitentiaries to sell the labor of inmates to plantations, mines, and other business.
Today, Washington state has the fourth-largest prison factory system in the country: Correctional Industries. According to state law R.C.W. 39.26.251, all state agencies are required to purchase from Class II type prison labor. However, there is a clause within that law that permits for the appeal of any state agency to purchase from alternative sources if they should so apply. There is a reasonable alternative to profiting from the exploitative industry, and it should be opted for.
---
SECOND, THE criminal justice system is racially biased to its core. Black students, people of color and people with mental disabilities are three times more likely to be suspended or expelled from primary and secondary public education institutions.
One suspension or expulsion makes them 50 percent more likely to be incarcerated in the juvenile detention system, and approximately 80 percent more likely to be incarcerated in the adult penitentiary system, with an 85-95 percent [chance of becoming] caught in recidivism. To make matters worse, Black youth make up approximately 10 percent of King County's youth population, but also 51 percent of the youth in jail. This is the school-to-prison pipeline.
Third, last year, it was observed that while there are approximately 30,000 students at UW, only about 1,400 are Black, making up roughly over 3 percent of the student population.
Furthermore, through some crafty research, last year I identified that the University of Washington is also very potentially invested in the prison-industrial complex via hedge funds, and in particular, the line item Black Rock, which invests in Correction Corporation of America and GEO Group, the two largest private prison corporation in the United States.
What all this reveals is that the University of Washington is at a minimum complicit in sustaining the prison-industrial complex and is profiting from the system and the oppressive nature of these systems.
We want the University of Washington to divest from these industries and to invest in our youth, to invest in your students, to invest in our community. In the interim, as this is happening, we also want a transparent budget that itemizes all of the investments the University of Washington has, so that we all can know precisely where the money is coming from.
Lastly, this coalition that I am here representing today has formed a committee that will be working with you on this process as it is carried through to fruition. So you can expect continued pressure from us and hopefully we can form a mutually beneficial partnership.
Thank you.