Baltimore's message is heard around the world
May 4, 2015
Trish Kahle reports from Baltimore, where militant protests pressured authorities to file charges against six police officers for killing Freddie Gray--with additional reporting by Todd St. Hill, Tyler Zimmer, Elizabeth Schulte and Lee Wengraf.
AFTER A week of rebellion, the people of Baltimore were finally heard.
On May 1, Baltimore State's Attorney Marilyn Mosby announced charges against all of the police officers involved in the murder of Freddie Gray, including a "second-degree depraved heart murder" charge against Officer Caesar Goodson, the driver of the police van in which Gray suffered fatal injuries.
Gray died on April 19, a week after police officers arrested him, handcuffed him and shackled his feet, threw him in the back of a police van without a seatbelt, and took him on a "rough ride" through the streets of Baltimore. By the time the trip was over, Gray was in cardiac arrest, his spinal cord nearly severed and his voice box crushed.
For days after Gray died, people took to the streets of Baltimore to protest the 25-year-old's murder, clashing at times with police outfitted in full Robocop riot gear. On the day of Gray's funeral, Monday, April 27, those protests erupted into an outright rebellion in response to the cops' increasingly aggressive and militarized behavior.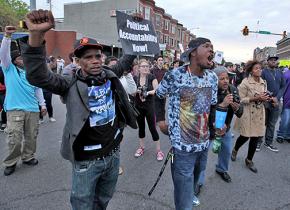 After the cops' violence against demonstrators and the mainstream media's usual smears against protesters, the announcement that Gray's death had been ruled a homicide, that his arrest was illegal and that six officers would face charges, including second-degree murder, manslaughter, false imprisonment and assault, came as a surprise to people everywhere.
In Baltimore, tens of thousands flooded into the streets. People from around the East Coast traveled to Baltimore to show their solidarity with Freddie Gray at a protest rally planned for Saturday that turned into more of a celebration with the news that the first step had been taken to hold the six officers responsible for murder. "These charges are an important step in getting justice for Freddie," Gray's stepfather Richard Shipley told reporters.
Many speakers at Saturday's demonstration were content to celebrate the charges and leave justice for Freddie Gray in the hands of the prosecutor. But it was protest that forced authorities to file those charges, and it will be protest that achieves further steps forward. As Lady Brienne, a Baltimore poet, said at Friday's demonstration at City Hall: "Charges are not a conviction, and there's a long genealogy of injustice in this city."
"Without Monday night, charges would not have been brought yesterday," said one speaker on Saturday, who was pulled away from the microphone before he was finished. "If we hadn't run into the CVS and taken our money back from the companies that have been taking it from us, they wouldn't have listened. Well, now they're listening. They heard the voice of Baltimore's youth--that they will get justice by any means necessary."
After Saturday's rally at City Hall wound down, protesters took to the streets to march to the intersection of Pennsylvania and North Avenues, near where Freddie Gray was arrested. As the demonstrators marched through West Baltimore, people hung of out their windows, cheering. Others joined the protest as it reached almost 10,000 people.
When the march arrived at the site of a CVS burned during the April 27 rebellion, the demonstration tuned into a party, with people dancing and chanting what has become the main slogan in Baltimore: "All night, all day, we'll fight for Freddie Gray."
Solidarity with the rebellion in Baltimore spread to other cities across the U.S. over the last week. Thousands turned out in New York City in the face of a large and aggressive police presence. In Chicago, the overwhelming support for Freddie Gray produced the largest march that activists have seen in many months. In the Bay Area, the Baltimore rebellion energized a protest to shut down the Port of Oakland, led by dockworkers taking action in solidarity with the Black Lives Matter movement.
All of this is having an impact on public opinion at large, as the stories of police violence victims like Freddie Gray--and Mike Brown and Eric Garner and Rekia Boyd before him--become part of a national discussion because of the rebellion in Baltimore.
---
BUT EVEN as protesters in Baltimore celebrated the charges against Gray's killers, a racist backlash was forming.
The Baltimore Lodge of the Fraternal Order of Police (FOP) issued a letter claiming that prosecutor Marilyn Mosby--a West Baltimore resident who was elected after campaigning on a promise to be tough on police misconduct--couldn't be trusted and demanding the appointment of a special prosecutor. This was a particular outrage for the victims of police terror and their supporters who must routinely address the intimate relationship of prosecutors and police departments.
In the streets of Baltimore, immigrant rights organizer Peha Djoko countered the police claims. "The law has been written in favor of the police," he said. "And it's we, the people--we're the ones who have the power to change it."
In addition to the conviction of the officers who killed Gray, protesters are also demanding changes to the Maryland Law Enforcement Officers' Bill of Rights--in particular, sections that place a statute of limitations on seeking charges against police, block civilian reviews, and delay investigations by imposing a mandatory 10-day waiting period. Activists also want the trial of the six cops to take place in Baltimore City, and not be moved to a majority-white county, like in Maryland's Eastern Shore.
Claims that Mosby moved too quickly in charging the six officers angered protesters. "The FOP are being hostile and angry right now, but the truth is that the mayor's police department are the real thugs," said West Baltimore resident Nadine Taylor.
Another protester, Diana Robinson, pointed out that Mosby's approach to seeking charges should be standard procedure when police commit murder. "The police kill us, and they've been getting slaps on the wrist," Robinson said. "But if one of us kills a dog, we'd be put in prison. You can't kill a dog that way, but you can kill a Black person."
The charges may have led to a celebration in Baltimore, but activists understand that more protest is necessary to win some measure of justice. According to an analysis by the Washington Post, of the thousands of fatal shootings by police since 2005, just 54 officers have ever been charged. "And when they are convicted or plead guilty, they've tended to get little time behind bars, on average four years and sometimes only weeks," the Post reported.
The fact that the six police officers in Baltimore have been charged at all speaks to the power of people in the streets. A member of the Bloods helping to protect Sandtown residents along North Avenue on Friday night remarked, "They're only prosecuting because they knew there would be war if they didn't. And if they don't convict the way they should, there will be war again."
---
THE REBELLION in Baltimore goes beyond the charging of the police officers who killed Freddie Gray.
Baltimore is in the midst of an uprising. It was triggered by Gray's murder and the ongoing epidemic of police murders of African Americans, but it has grown to encompass wider issues of poverty, disinvestment and more. Nadine Taylor described living as a Black woman in West Baltimore: "It's absolute harassment--all of the time." When Lady Brienne called out "Black trans lives matter!" at a demonstration, a huge roar of approval went up from the crowd.
In their early attempts to quell the rebellion, Maryland Gov. Larry Hogan declared a state of emergency, and Baltimore Mayor Stephanie Rawlings-Blake instituted a blanket curfew across the city. Anyone out between 10 p.m. and 5 a.m., in a car or on foot, was subject to arrest. The curfew became a major flashpoint until it was lifted on Sunday morning.
"This is not slavery," Joseph Kent yelled to a crowd of 200 people as they gathered in the streets at the intersection of Pennsylvania and North Avenues in West Baltimore's Sandtown late on Friday night. "They can't tell us when to go into our houses--this is 2015!" Kent continued.
Rawlings-Blake claims that she instituted the curfew to "help our city restore calm." But as anyone who didn't abide by the curfew--whether journalists or legal observers or medics--knows, "restoring calm" was a violent and brutal process carried out by the Baltimore Police Department, with help from the Maryland State Police and National Guard.
After curfew on Friday night, more than 100 protesters gathered outside City Hall in an act of defiance against orders to return home--they instead sat in a peace circle on the lawn outside the building. Within half an hour, police had moved it, using batons and other physical force to "subdue" protesters who were seated on the grass. Fifty-three people were arrested.
Meanwhile, in the West Baltimore neighborhood of Sandtown, where Freddie Gray lived, police charged a crowd of mostly journalists after a bucket of ice and water bottles was thrown at the police line. As people fled, police chased and attacked them. Neighborhood residents, who had organized safe houses, waved people inside as police blocked off some escape routes.
There were larger confrontations on Saturday night. A march led by Kent, a student organizer at Morgan State University, took a small group from Sandtown to Baltimore's sprawling multi-block prison district and the nearby Latrobe Homes housing project. The Baltimore police arrested the entire march, including a legal observer and two street medics.
Growing opposition to the National Guard occupation of Baltimore compelled Gov. Larry Hogan to announce on Sunday that he would begin to draw down the troop presence. The governor and mayor claim that calm had been restored, but the truth is that continued occupation and curfew had become politically untenable.
After all, the curfew didn't prevent continual clashes with police--while the city's coffers were drained to pay for police overtime, and the entertainment and sports industry lost money.
But it was working people who suffered the most under the curfew. "Think about all the people who can't go to work, who are paid hourly and living paycheck to paycheck," said Vashti Presco, a protester who has been involved in street demonstrations since the initial confrontations. "Think about the waiters, the strippers. They rely on tips. They've lost all these wages. How many of them are going to lose their homes now?"
---
PEOPLE IN Baltimore are also drawing conclusions about other city priorities. "This city has looked like it had a riot since I was born," Vashti Presco said. "It wasn't rebuilt after 1968, even though other cities had worse riots. That CVS is probably never going to get rebuilt."
As she watched the National Guard operating its command post at Mondawmin Mall, Kelly Robinson asked, "Where are they getting that money from when they're closing our kids' schools?" Meanwhile, the spate of water shutoffs, mainly against working-class Black residents, carried out within a week of the beginning of the rebellion, are seen as a retaliatory measure.
"What's misunderstood is the character of racism in our society, which systematically disregards the lives and humanity of people of color," summarized Devon Love. "Freddie Gray was a symbol of all the people who have been subjected to state violence in all its forms."
At the rally on Friday, Rev. Heber Brown III pointed out how the calls for protesters to end the "violence" served to erase the daily reality of state violence in Black and poor communities:
Violence is one in four people of color living in a food desert, it's not giving middle fingers to helicopters. Violence is the lead in the pipes that supply our water. The shutting down of traffic isn't violence. The shutting down of progress is violence. Violence isn't refusing to go indoors after curfew. Violence is refusing to come out in the streets for justice in the daytime.
The rebellion in Baltimore is drawing support from across the country, and political leaders are concerned about the threat that the unrest might spread. Rep. Elijah Cummings, the member of Congress for West Baltimore, who came down to the protest in Sandtown on Friday night, said, "More than 80 members of Congress have come up to me saying they're worried about this happening in their cities."
Racism, police violence, disinvestment and austerity aren't unique to West Baltimore. They exist around the country: in smaller cities like Ferguson, Missouri, and all the Fergusons we haven't heard of yet, and in large cities like Chicago, New York and Oakland. The demonstrations in solidarity with Baltimore around the country point to the links activists can forge between struggles, the labor movement and the Black Lives Matter movement.
In Baltimore, the rebellion will continue. City and state leaders promise that peace has been restored. But Keyonna Harrell, a student at Frederick Douglass High School--the students who were attacked by police on the day of Freddie Gray's funeral and later branded as thugs--summed up the mood: "The people who burned down the CVS were making a statement that they wanted justice, and they would do anything to get it. That hasn't changed just because we're not burning down stores anymore."