RonnieMan won't be forgotten
December 11, 2014
Rachel Cohen reports from Chicago on another case of police killing an unarmed African American man--and a mother who is carrying on the struggle for justice.
RONALD JOHNSON was known in his neighborhood as RonnieMan. He was also called "the dog man," a name he got from caring for wounded or stray dogs that turned up near his home in Washington Park. He was 25 years old and a father of five small children, ranging in ages from one to seven years old.
Shortly after midnight on October 12, his life was stolen by Chicago police.
Dorothy Holmes raised Ronald and his two sisters as a single parent with the help of her mother and other relatives. Now she is marching every chance she gets against police murder, along with helping to raise her grandchildren. "He was just a loving and caring person," Holmes says.
Ronald's children miss their father and have a lot of questions, being unable to understand why police would take their father away from them.
On the night in mid-October, Ronald had been with his cousin and other friends when he came across flashing police lights. He recognized a Chicago police presence in his neighborhood as a danger, so began to run. Plainclothes officers ran after him and opened fire.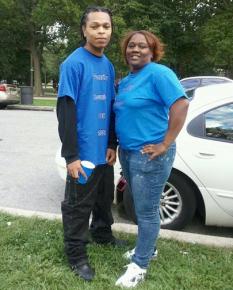 Witnesses have told Dorothy Holmes that the officers didn't identify themselves, and that Johnson stopped and asked why they were shooting at him. When he received no answer, he turned and continued running. Police shot him as he fled--his death from multiple gunshot wounds has been ruled a homicide.
Police later claimed that Johnson "fit the description" of a suspect in a shooting earlier in the evening, and that a gun was found near Johnson's body. But these claims are routine in Chicago police killings, and witnesses say Johnson was unarmed.
In fact, in the months since Mike Brown was murdered by Darren Wilson in Ferguson, Missouri, at least three other young Black men have been shot dead by Chicago police.
Fraternal Order of Police spokesperson Pat Camden claimed Roshad McIntosh, who was just 19 years old when he was killed on his back porch on August 24, had pointed a gun at police officers. But witnesses saw him hold his hands up, unarmed and pleading for his life before he was killed.
Desean Pittman, the 17 year old murdered by CPD officers the same day as Roshad McIntosh, was also supposed to have been pointing a gun at officers when they fired on him. Police returned to harass and mock Desean's family members, who had gathered for a vigil the following day, eventually arresting Desean's mother, Natasha Haul.
---
POLICE ATTEMPTS to paint Ronald Johnson as a threat are only the beginning of the dubious claims they've made about the circumstances of his death.
Video taken right after the shooting shows officers place a white sheet over Johnson before eventually putting handcuffs on his hands and kicking him over. Witnesses say Johnson died on the scene, but officers initially stated he had only one bullet wound and died at the hospital. When family members visited the scene of Johnson's death, the amount of blood left behind strengthened their suspicions that he had died where he fell.
Police didn't notify Holmes of Johnson's death until late the following morning, and she wasn't able to identify his body until the day after that. She's been told there is no police report, and her lawyer guesses it could be months before the cops even share the medical examiner's autopsy report.
But during sleepless nights, she's searched the Internet for any news she can find, and she believes the officer who shot her son is named George Hernandez. "I don't know if he's still out there working," Holmes worries.
Family members who helped prepare Johnson's body for his funeral found multiple wounds that suggested he was shot in the back of the head and neck as well as in the palm of his hand.
Holmes has filed a civil lawsuit on five counts, but feels frustrated by advice to focus on a settlement. "I want to see this officer convicted, not for manslaughter, not for reckless behavior, but the way my son would be treated if he had murdered someone--I want the officer treated that same way," she says.
Cook County prosecutors have just announced criminal charges against Dante Servin, the officer who shot and killed 22-year-old Rekia Boyd during a barbecue in Douglas Park in March 2012, following a civil suit in which Boyd's family was awarded penalties for Rekia's wrongful death. Though the charges are minimal--involuntary manslaughter, reckless discharge of a firearm and reckless conduct--Servin is the first Chicago police officer to face any criminal charges for a fatal shooting in more than 15 years. Holmes plans to join other activists in court when Servin's trial begins in January.
In the meantime, marching with other family members of victims of police terror brings her some small comfort, and she is determined to get Ronald Johnson's name out there. On Friday, December 12, she will join a candlelight vigil at 53rd and King Drive at 5 p.m., where she hopes as many people as possible can stand with her and her family. The following Sunday would have been Johnson's 26th birthday.